Head of Defra's Data Programme, Sophia Oliver, talks about her experiences over the last 5 months since she took up the post.
After I left government back in 2013 I started an organisation called ungov.uk with an old friend from HM Treasury. The point was to open up policy-making to the public by creating a route for informed, experienced people – nurses, teachers, CEOs, small business owners  – to give government ideas for doing things better. After all, they're the ones that are doing these things every day. We had mixed success with ungov.uk – which is probably the subject for another blog post. But what I missed was the opportunity to have real impact – the kind of impact you only get when working in a big, far reaching government department.
I liked the look of this job because it has that reach. Defra has a huge policy remit that touches everyone in the UK. And on top of that it played to my interests: open policy-making, open data (which I'd been leading on at the Cabinet Office before I left government) and using data better. And even better, the permanent secretary Claire Moriarty is right behind us all working in a better, more modern way. I translated this into support for working in an agile, innovative way, with a focus on getting things done – one of the things I loved about start-up world, and my time at GDS.
Day 1! - with @MrMikeRose #defraselfie @opendefra pic.twitter.com/mFEPwmiEJS

— Sophia Oliver (@sophia_oliver)
I came into the post very excited about what lay ahead: sorting out the vast amounts of data we have access to, and combining it and using it to approach policy and operations in entirely new ways. All the talk was about transformation and I saw data as the engine that could drive that transformation. I wasn't particularly driven by the open data at that point: the data team just smashed the target of 8000 open datasets – so we were in a good place already – and I also wanted to focus more on user needs and delivering outcomes for users rather than focusing on more publishing per se. If publishing open data met those user needs, then good – but if we needed to do something else then I wanted that to be the priority. Clearly, what we needed was a single, coherent strategy for data that would enable us to identify user needs, prioritise them, and then fix the data requirements…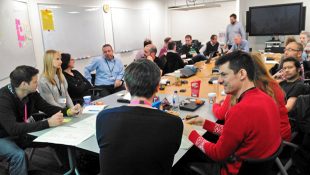 I've been here nearly five months now. So what's happened?
Firstly: what has become of the big, unified strategy? Well, that strategy already existed – and it's called the Target Operating Model. What was actually needed was something that showed how the Defra group could work together on providing their response to the data aspects of the TOM. What was our plan for getting there?; – getting there as one, coherent group with one understanding of what it meant to be data-driven? More on this in a moment.
Secondly: have we identified our user needs? The answer to that is that we've identified some of them; because one of the four guiding principles for the data team is 'the strategy is delivery' (that may be familiar to some of you), we've already started work on proofs-of-concepts that look at those user needs. But it only scratches the surface of where we need to get to  in terms of identifying user requirements – and one of the biggest issues is helping people actually articulate those user needs themselves, which isn't always easy, especially if you're unaware of the opportunity.
So we've made some progress. The crucial thing that I didn't get right was to ramp up engagement across the group quicker: we talked a lot in the team about what we're doing, and increasingly with the Data Delivery Board, but we should have been out doing more user research from the get go. We should have been selling the data programme, and the opportunities it can create, to a wider audience.
We could have worked on building the function quicker: the committed, talented and passionate people working on data around the group (I met a lot of them at our Defra Data Function Unconference and they really are all those things) are the ones that can be out there helping to make the response to the TOM coalesce around some big, key deliverables: consistency in our data management; capturing of user needs; building capability in policy and operational teams – to name a few. But they also need a clear agenda to sell and to build upon. Plus, we need to do much more with the broader transformation agenda, which will help us prioritise where to go in identifying user requirements and starting to iterate solutions.
I'm frustrated that it's been slower than I liked – and I imagine some others feel the same. On the other hand, I'm really pleased that we're starting to move now; we are making progress with the first set of proofs-of-concept, we've built a great team that is expanding out into the Defra Data Function.
Through these steps, we're starting to change the way people do things.
Our data delivery board is working in much more open, collaborative and results-focused way; we're linking up more with Defra's Transformation and and Digital Transformation programmes; and we're working on getting engagement to be more user and outcome-focused.
This has always been a data transformation programme – access to data and recognising it as an asset was just the start of the journey ahead. Better use of data is how Defra will begin to achieve better service delivery in all of the areas it covers, and how it will begin to build a better environment for everyone.