https://defradigital.blog.gov.uk/about-defras-data-programme/
About Defra's Data Programme
Defra is one of the most data-rich departments in government. Much of that data is environmental, agricultural, scientific or geographical in nature.
The vast majority of these datasets are published as open data, made available for anyone to access, use and share for no cost or restriction.
We use this blog to think out loud, test ideas and report on progress. We share the blog with our colleagues in Defra's Digital Transformation and UnITy programmes, so you can quickly find data-themed posts here.
Open by design
As organisations outside of government, in the private, charitable and research sectors are able to use open data to boost productivity and innovation, Defra benefits. Data historically held in silos in the group's numerous arms'-length bodies and individual teams is more easily shared across the whole group. This reduces friction, increases efficiency and allows Defra to become a 'data-driven' organisation.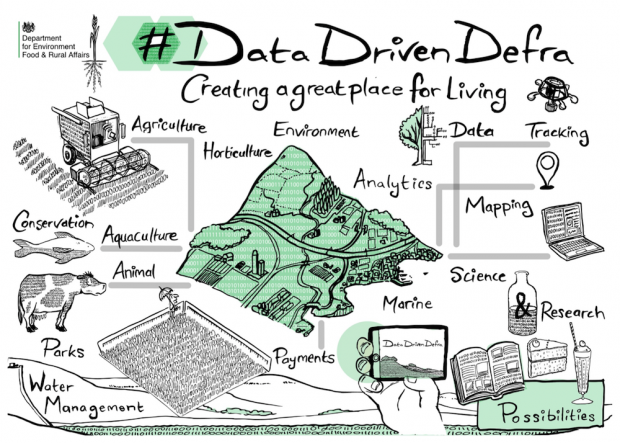 Defra's data assets cover a breadth that matches the remit of the group. There is topographical landscape data captured using LiDAR; data on biodiversity and land use from Natural England; data and apps on bathing water quality, flood and rainfall from the Environment Agency; on marine bathymetry and habitats from MMO and Cefas; even our historic eating habits.
A September 2016 paper outlines some of the opportunities of better use of data in Defra. This is a snapshot of the work being done in data across Defra at that time; the Data Programme has moved this on significantly (see below).
Defra's Chief Scientist, Professor Ian Boyd, has written about the power and potential of open data in agriculture and about joint work between the Earth Observation Centre of Excellence and the Data Programme.
Becoming data-driven
Making data open doesn't alone make an organisation data-driven. In Defra we're doing a few things to help us on that journey, and we're constantly reviewing our progress to make sure we get there.
Setting up proofs-of-concept to tackle big policy questions and challenges
Making sure our data architecture is as important a consideration for Defra as any decisions on physical infrastructure
Showing how better use of data can help Defra: Act Together; Make things simpler; Reduce duplication; and Maximise impact (the design principles in Defra's Target Operating Mechanism)
Defining data principles that we will use (and we think anyone could use)
Helping Defra group to understand and manage its data holdings
This page will develop with the Programme
You can sign up to our Newsletter for updates