https://defradigital.blog.gov.uk/working-at-defra-digital/
Working at Defra Digital, Data and Technology Services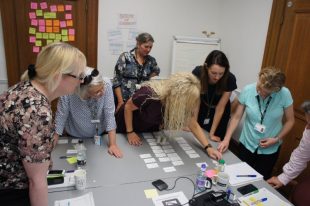 Working at Defra Digital
We are Defra – the leading government department for safeguarding the natural environment, supporting our world-leading food and farming industry, and sustaining a thriving rural economy. Our broad remit means we play a major role in people's day-to-day life, from the food we eat, and the air we breathe, to the water we drink.
Of course, none of this will be possible without the professionalism and dedication of our staff. We're committed to helping our people to find new ways of working and to maintain our focus on creating a better place for people and wildlife.
Be a part of Defra's digital future
Defra has ambitious plans for creating a great place for living with data and digital transformation at the heart of everything.
We're building a digital future for Defra and our customers. That means making big changes to how our services and technologies are designed and delivered across the Defra Group. As a Digital expert, you'll be at the heart of that change.
Our digital services are important. They allow our customers to manage their businesses, track their livestock, apply for licenses and monitor their local flood risk. They enable our staff to work flexibly, collaborate with others and record data from sites across England.
Defra Digital, Data and Technology Services operates across the whole departmental portfolio so everything from flood warnings to farming data, marine protection to air quality is in scope for the team.
Interested in working with us?
We will be recruiting for a number of roles . We are not looking for ninjas, rockstars, gurus or unicorns. We are looking for great people. Talented, enthusiastic and passionate people who are excited by the challenge of designing and creating user-centred digital services.
Benefits of working for Defra
In return for your expertise, you'll benefit from being part of a supportive, diverse and customer-focused team. We'll invest in your professional development and work with you to design your future. Our flexible working arrangements mean that you can maintain a healthy work-life balance. And, you'll have the satisfaction of knowing that your work helps create a better environment and place to live.