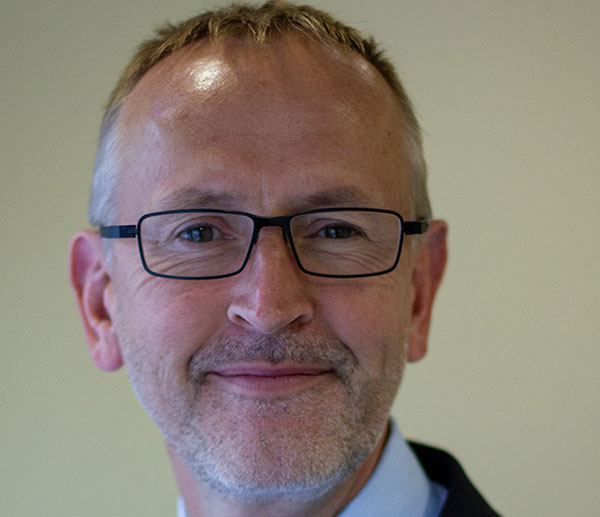 I'm pleased to share the latest Sustainable Technology Annual Report 2018 to 2019 with you. This cross-government effort covers the information and communication technology (ICT) sustainability performance of 21 government departments/agencies. It highlights good progress towards published targets and best practices.
The HMG Sustainable Technology Advice & Reporting (STAR) Team co-ordinates the work, which brings together experts from government, academia, professional bodies and industry bodies.
STAR works together to:
develop tools
share best practice
report on progress across government
The commitment of Technology and Digital Leaders to deliver the Greening Government Sustainable Technology Strategy 2020 provides support for STAR's work. This aims to put UK central government at the forefront of sustainable best practice for ICT.
What the report tells us about technology and sustainability
A lot has changed in the delivery of government technology since we launched the original strategy in 2011. We've:
adopted Digital by Default for all government transactions
moved a large section of our ICT hosting estate to cloud services - storing large amounts of our data on shared external servers rather than using in-house data centres
increased use of shared technology services by departments, boosting collaboration and reducing the need to travel and print
Demand for technology services is growing. This means:
more end-user devices
big data stores run by our service providers
more ICT waste
All of these, through their supply chains, consume resources and electricity – and technology's share of this and therefore its contribution to the world's carbon emissions is on the rise.
STAR's focus is to make sure our approach to technology in this changing world is both green and sustainable. We need to measure our ICT carbon footprint, including that of our service providers, and put in place steps to reduce it.
We need to strike the right balance. We must deliver and operate services efficiently. But we should also exploit technology fully to bring sustainability benefits.
Mainstreaming sustainable technology as the solution
The STAR advises government on how technology can support organisations with more efficient and flexible business processes and new ways of working, in order to meet increasing commitments to targets. These include Net Zero by 2050 and the UN Sustainable Development Goals.
Technology is also increasingly seen as vital to helping us meet the Greening Government Commitments to:
reduce the size of our energy footprint
reduce the need for business travel through increased collaboration tools
reduce the volume of waste and increase reuse
provide data and analytics to support achieving sustainable outcomes
One of STAR's key achievement this year was to include formal departmental reporting on sustainable ICT for the Treasury. By doing this, STAR has elevated this work into the core of departmental business, making sure departments identify, manage and migrate the benefits and impacts from ICT.
I'm proud of the work Defra group is leading as the responsible department in this area. The opportunities for sustainable benefits from ICT are immense. Our challenge is to make sure we do not increase the burden on earth's resources unnecessarily in search of these benefits.
Read more about the Greening Government ICT on GOV.UK.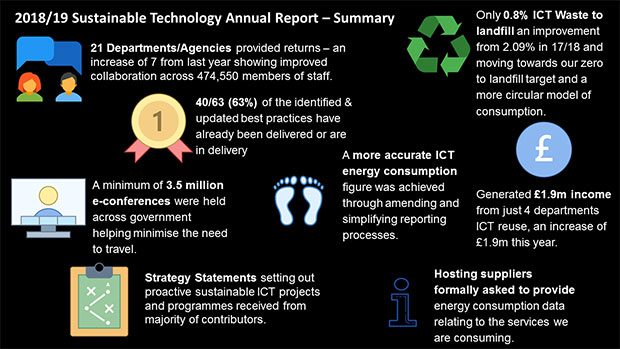 Summary of the report shown on the image:
21 Departments/Agencies provided returns - an increase of 7 from last year showing improved collaboration across 474,550 members of staff.
40/63 (63%) of the identified and updated best practices have already been delivered or are in delivery.
A minimum of 3.5 million e-conferences were held across government helping minimise the need to travel.
Strategy Statements setting out proactive sustainable ICT projects are programmes received from majority of contributors.
A more accurate ICT energy consumption figure was achieved through amending and simplifying reporting processes.
Only 0.8% ICT waste to landfill an improvement from 2.09% in 17/18 and moving towards our zero to landfill target and a more circular model of consumption.
Generated £1.9m income from just 4 departments ICT reuse, an increase of £1.9m this year.
Hosting suppliers formally asked to provide energy consumption data relating to the services we are consuming.