Hello - I'm Tom Guilbert and I work in the Data, Mapping, Modelling and Information team at the Environment Agency. I've been working over the last few months on updating and improving our bathing water quality open data services and applications.
What is changing?
2015 is the first year of a new directive that aims to improve our bathing waters even more. Designated bathing waters in England now have tougher water quality targets to achieve; the new standards are approximately twice as strict.
To coincide with this change I've been working with the team on updating our Bathing Water Application Programming Interface (API) and associated Bathing Water Explorer and Widget applications. These applications and the data they present are important because they help people make decisions about whether to go swimming. It's also useful to partner organisations to let them know what we are doing, and what they can do, to improve bathing water quality.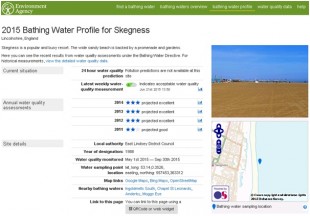 The data included in the service has been available as linked open data since 2012, with a well documented API, to encourage as much reuse as possible. We have seen uptake in other digital services including the Marine Conservation Society (MCS) Good Beach Guide and Surfers Against Sewage (SAS) Safer Seas Service. We also provide widgets to allow organisations like local authorities to include our information in their web-sites without having to use the API directly.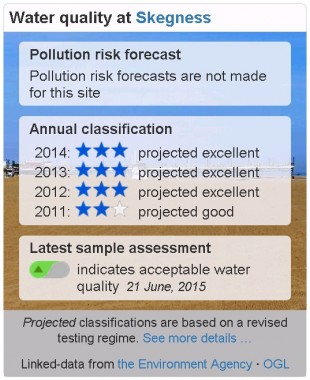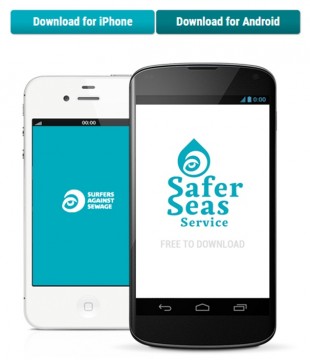 Improving our service for its users
It's important that changes we make are improvements for the users of the service. So I've worked with colleagues over the winter talking to members of the public and people from partner organisations like MCS and SAS to get their thoughts and understand what they need.
These needs were fed into the design of the updated data model and applications, which now include information using the new assessment regime.
People told us the most important thing they wanted to know was the latest situation at a bathing water. So we have changed the applications so that any warnings about the water quality today are most prominent. These are followed by the latest sample results, the annual classifications and background information.
There is a lot more to the data we publish than just the water quality. The data model, amongst other things, covers:
Individual sample results at all beaches back as far as 1988 in some cases
Annual classifications under the new legislation
Daily pollution risk forecasts based on rainfall or tidal conditions
Information about incidents ongoing at beaches that may be affecting water quality
Details of 'step changes' where we are expecting to see significant improvements in quality because of an intervention, for example the upgrade of a water company asset
Litter
Catchment areas
Site location information, local authority, etc
Details of features like combined sewer overflows and other outfalls at beaches
Beach photos
Descriptions of each bathing water, the issues it faces and the action being taken to improve its water quality
I'm very proud of the new system and hope it will be useful to beach goers, developers reusing the open data in new and exciting ways, and the people managing and improving bathing water quality around the country. I would love to hear any feedback you have to make it even better so please contact me if you have any.