The following case study from Mike Williams, Data Research Consultant at Landmark Information group, shows how Defra's open data is being provided as a service alongside environmental expertise, to advise developers on the suitability of land for development.
With the Government Digital Service taking the lead on helping to make public services 'digital by default', the same could be said of the latest developments here at Landmark Information Group.  
As a data company that specialises in providing land, property and environmental insights and intelligence to a range of markets, taking a 'digital-by-default' approach allows us to deliver interactive services that help businesses, individuals and organisations unlock the power of the data for a wide range of uses.
Context
Over recent years we have started to see a real change in the way environmental data is accessed and used for commercial needs.  As more and more data has become available digitally, it has become far easier for professionals to assess, analyse, query and interrogate, allowing them to deliver a host of benefits to their clients.
Challenge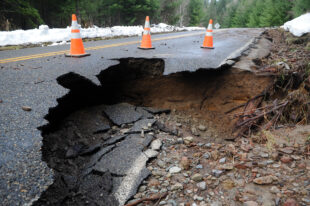 Our clients need rapid access to information in order to carry out investigations into land proposed for development. Any potential risks or hazards are present on, or near to, land proposed for development form the basis for a Phase 1 risk assessment report. The kinds of risks such reports highlight could be anything from potential land contamination caused by pollution incidents, chemical production, landfill, manufacturing or tanneries, to name just a few; through to flood risk or ground instability or potential unexploded ordnance. Traditionally this has been a time-consuming manual process, involving our consultants accessing paper-based environmental reports and maps, often be overlaid onto lightboxes, or opened up on-screen as multiple PDF documents so they can be cross-referenced.
Solution
Now, our clients are able to immediately access digital maps and environmental data in an online, interactive environment when they request our Envirocheck reports.  As organisations such as Defra (which includes 34 bodies including Natural England, the Rural Payments Agency and the Environment Agency) have unleashed their data, we have been able to deliver more resources and richer experiences to our clients.  This includes a wealth of Environment Agency datasets, such as Surface Water Flooding, Historic Landfill Sites and Groundwater Vulnerability. By utilising the Environment Agency's open LiDAR data and the Ordnance Survey's contour data we are able to overlay 2D hill-shaded height layers, helping us to better understand the landscape visually and to build conceptual site models
Benefits
Using a single online platform such as our own Envirocheck Analysis, professionals gain immediate access to the information and can accurately assess environmental risk factors related to a piece of land, without the need to cross-reference a number of printed reports.  This not only saves a huge amount of time, but it increases accuracy and makes it far easier to export the findings directly into their concluding site assessment report.
Another example is being able to combine these datasets with services such as Google StreetView: consultants are able to build a clear picture of a location, the surroundings, and access points, without even leaving their desk, giving them back many hours in their busy working week.
Pat Dowley, an environmental commercial director of WSP Parsons Brinckerhoff, said of the tool: "With the data now being fully accessible via Landmark's Envirocheck reports and Envirocheck Analysis tool, we can analyse the data online and identify the risks associated with an area of land.  This makes the process of understanding the risks related to a site we are investigating far clearer and identifiable at an earlier stage."
Commenting on the addition of the Environment Agency's Surface Water Flooding data to the Envirocheck report, he said: "Previously, we had to refer clients to the Environment Agency's site for this information, however now we can provide everything in one easy-to-read report, without delay, which is ideal."
A demonstration of the Envirocheck Analysis app is available to access here:
http://www.envirocheck.co.uk/app/envirocheck-analysis
Whether you work in the public sector, private or third sectors, we'd like to hear how using Defra's open data has changed how you work. Please contact us at open@defra.gsi.gov.uk