In March, a small milestone went largely unnoticed. The UK Open Data movement was 10 years old. It has been a privilege and an honour to be a part of the movement within Government during this time.
At the end of this week I will be leaving Defra. I'm off to pastures new and much closer to home. I will be joining Epimorphics, a connected data SME from where I will see things from the other side of the data economy value chain.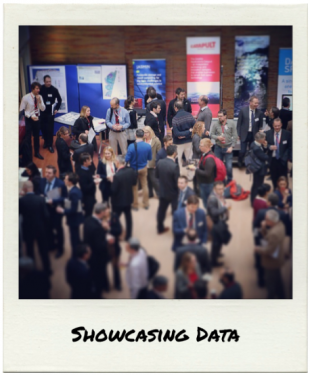 Being the first Deputy Director for Data Transformation in Defra has been a privilege. I've had the opportunity to build this programme and set it on an exciting journey. Something I'm hugely proud of. For me, now is the right time to move on and pass on the baton.
I'm not going to be-able to see everyone before I go, so thank you all.
As anyone inside government knows this is a team sport. In the case of #OpenDefra, the team includes users of our data and others across government.
The task ahead
Since the Secretary of State announced the Data Programme last year, we have got a lot done. I'm leaving confident that we'll pass the target of 8000 datasets. This was always phase one of the data transformation we need. The Defra group will then be focusing its efforts onto how we use data to meet our objectives and working with our data users. There is a lot to do and many interesting challenges ahead. One thing I am sure about though, is Defra is learning to be more open and not just with its data. I'm sure we'll all be reading more about the future steps right here.
Some fond memories
It all began for me surveying crayfish on the Wye back in 2000. I soon discovered the complex challenges of sharing data. Later on I recognised how the lack of open data makes it harder for everyone to just get things done.
Over the time in the Defra group I've had some amazing roles including:
tracking salmon in the Severn Estuary,
analysing fish stocks,
designing the Detailed River Network (DRN),
bringing linked data and data api tools to Defra,
Leading Defra to be the first Department to visit the Open Data Institute (at that time there were just two desks) in their fresh new office
...and so much more.
Being part of the journey to open data, an open culture and improving data use has been a thread throughout. The ask may have a long way to go and I will be looking excitedly at how this progresses.
And finally...
The world has changed a huge amount over the last 16 years. Building on open standards and open data has been key for Defra. We can now access new and better solutions to support outcomes and work with others.
We have done a lot but there is a lot still to do. I suspect and hope that one outcome of our big open data push is that expectations have grown too.
Stop press!
The Secretary of State for Environment, Food and Rural Affairs, Liz Truss MP, wanted to say the following on Alex's departure:
"Alex has made a massive difference in propelling Defra to lead the Government in open data. This is an amazing achievement given that the UK Government leads the world in open data.  We have already seen huge benefits from better flood information, to food inspiration."
Defra's Permanent Secretary, Clare Moriarty, added:
"When I told people I was moving to Defra, the response was either 'badgers' or 'floods'.  But I have every confidence that the word association for Defra will soon be 'open data'.  And that will owe a huge amount to Alex.  The growing reputation that we have in Government and beyond for taking open data seriously – walking the walk – is substantially down to the great work that he has done.  I wish him all the very best for the future."