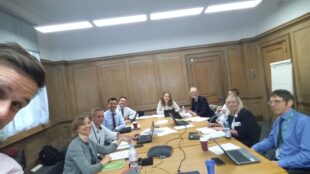 As the new Director of Data, Knowledge and Innovation in the Environment Agency, I joined Defra's Data Programme Board meeting – chaired by Emily Miles – with colleagues from across Defra group for its second meeting on 19 October. I also met Sophia Oliver, who heads up the Data Programme.
The vision for the group's data is simple: 'In future, we will have better data, better used'. There are three guiding principles: that we will be data-driven; that our data will be valued and shared; and that it will be open by design. It is the role of the Data Programme Board to deliver this vision.
The technology revolution is a data revolution, and our challenge is to harness that data, enabling us to work more effectively with communities and customers to support innovation in the UK economy.
Defra's data holdings are incredibly rich: from long terms datasets on species and environmental quality through to data updated daily such as on animal and waste movements; to data captured in real time on the operations of assets; to harnessing new sources of data, such as from satellites; to data on our staffing resources that enables us to be paid every month.
The vision is simple, delivering it will require focus and effort from us all. That is where the data governance board comes in: to enable Defra group to realise the value of its data.
The Data Programme is focusing on getting the shape of the programme right. We agreed to structure around three 'As':
Assets - the management of group data assets;
Access - facilitating access to the data; and --
Analysis - data science and analytics.
We will work to four principles:
The approach is agile, with quick discovery and testing with users.
The strategy is delivery so we will demonstrate things rather that talking about them.
The driver is business need, and projects will be selected on the basis of business need guided by transformation
The focus is steering and coordinating, enabling the Defra group to get better at working with data.
When prioritising our activities we will make decisions based on delivery of a transformed service, the opportunity to make cash savings and transformation to the UK.
Managing data well is one thing, but analysing and visualising it is critical to delivering outcomes. There are a number of teams across Defra working on data analysis and developing analytical tools. We agreed a working definition of 'Data Science' and have commissioned some work out to scope out and coordinate data science activity across the group.
The Data Programme team agreed to progress three proofs-of-concept, one of which is to improve the use of data to tackle bovine TB; another is to make better use of technology and real-time information to help manage the network of water management assets that mitigate flood risk. We'll also be looking at how we can manage Earth Observation data from satellites. This data has the potential to marry-up land use and water quality, rural payments spot-checks, wildlife and ecosystem management, and in plant and animal health and risk to food security.