Data is a valuable asset. We need to make sure we're treating it that way.
Hi! I'm Lisa Allen. I am leading the Data Asset workstream for Defra. I came from the Environment Agency – in an example of one of the new ways of working in the Defra group: showing how we can work flexibly, moving people to ensure we have the right people with the right skills to carry out our data transformation.
I've been in data a long while, and have been lucky enough to lead the Environment Agency's (EA) approach to data ownership, developing a maturity model to measure how well the EA is managing its data. I also led the EA team contributing to the Secretary of State's ambition to release 8000 datasets as open data. I saw first-hand from the opendefra push to publish these datasets how powerful the group can be when working together.
By working together, we can totally transform the way we manage data, not for one organisation but for the whole group.
What is the Data Asset Workstream?
For those of you who aren't familiar with our Target Operating Model, or TOM as it's often referred to, it sets out how we want to work together in the future so we know how we'll need to change to get there.
The TOM's ambition for data is clear: Data will be valued as a shared Defra group asset; managed to a common framework, including a common lifecycle. This means having a clear inventory of all our data holdings, a common categorisation system and a good understanding of their value and cost to our work. It also means we will be able to access our data easily and use them to support real-time decision making. Through embedding the framework, all data will have a designated owner and everyone will understand their roles and responsibilities in relation to information rights, data protection, privacy and data sharing, at different stages of the lifecycle.
The Data Asset workstream is here to deliver that ambition.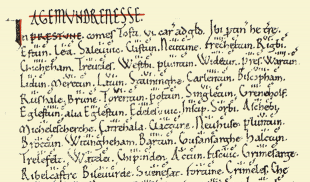 What we're working on
Transformation doesn't happen overnight; this workstream is a long term piece of work to gradually transform the way we manage data across the Defra Group over the next three years. Like all good programmes, we are working on our plan and its scope. Our timeline is evolving, taking into account the areas we need to develop first like data ownership, but also accommodating the needs of the proof-of-concept projects that are already in flight.
The first important step for the Data Asset workstream is the meeting of the Defra Group organisations on 2 February. We want to hear the views of all the Defra Group in taking the Data Asset plan forward. If we are to succeed we need to work together and hear the voices of all in the group. For this meeting we'll be looking at:
Data Principles – i.e. the data framework. This will includes all the data disciplines we will work on together. This is really important as it will set the overall plan areas.
Skills, training and professional development – This is building on a piece of work started last year. We want everyone to be a data professional
Ownership – Ownership of data is a pet subject for me. We want all data to have an owner which aligns to business policy and processes.
Data Inventory – we want a list of all datasets from across the Defra group that we can access not only the list but the data easily. Not only that, we want to know the heritage and the quality of the data so we really understand if and how we can use it.
You can see we are in the early stages of the workstream and above are listed only a few of the work areas the Data Asset workstream is covering.
There are huge benefits of working together. The road will not be easy. Like all of government, we have to work efficiently within finite resource constraints, but this makes it even more important for us to work together, not less. We know that when we work together collectively, like we did on the opendefra data push, we can deliver great things.
We want to build on that momentum and truly transform the way we manage data.