For #InvasiveSpeciesWeek and to mark the release of the Centre for Ecology and Hydrology's Asian Hornet Watch app, we have a guest post from Janet Dixon from Defra's Exotic Disease Control Unit.  
UK plants and bees are constantly threatened from over 900 pests and diseases invading and wreaking havoc on agriculture, pollination and biodiversity. I was the contingency planning lead in plant and bee health this past year, keeping our environment safe by ensuring that response plans are ready and appropriate should one of these many unwelcome pests break our defences.
In late summer 2016 an invasive non-native Asian hornet was spotted in Gloucestershire. Asian hornets are widespread in France since 2004, but had not yet reached the UK. They feed on honey bees and other pollinators and if allowed to spread, could have an economic impact of around £7-29million over ten years.
Operation 'Find the Nest' – Divide and Conquer
Immediately following the confirmed sighting, operation 'Find the Nest' was activated. The nest must be destroyed before further queens develop and spread, with a single nest able to produce up to 300 queens. Identifying a 1 inch long insect, in amongst numerous similar looking species, then following it to its nest is not an easy task. APHA (Animal and Plant Health Agency) bee inspectors carried out extensive surveillance and through citizen science, bee keepers, pest exterminators and the general public were asked to report any sightings.
Once formally identified, the hornet can then be followed. Luckily, Asian hornets generally use straight line flight to go back to their nests, allowing bearings to be taken and an estimated location to be triangulated. Alongside these traditional detection techniques, Defra also collaborated with the University of Exeter to innovate new faster and more efficient tracking methods. Radio tagging and radar technologies were trialled however further research still needs to be carried out.
Thankfully with long man hours and thermal imaging, the nest was located after 11 days. Asian hornets return to their nest at night, allowing the quick and effective eradication of all individuals at once. Following extermination, the nest was then investigated by FERA to determine how many queens may have emerged and quantify potential spread risks. FERA also genetically test the hornets to determine the species and likely entry route.
Until next time…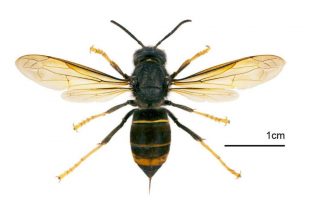 The story does not finish here. The risk is ever present and Defra group scientists and academics are continually working together to improve contingency plans, surveillance efforts and tracking techniques for next season. The team were successful this year, however possible new threats to our plants and bees may be lurking outside our borders. We are not only ready and waiting, but proactively using science and evidence to innovate the very best methods to prevent, detect and eradicate these future threats.
You can download the Asian Hornet Watch app for Android.
Janet now works in the Notifiable Avian Disease policy team. You may be interested in reading about the alpha version of our notifiable diseases open register.