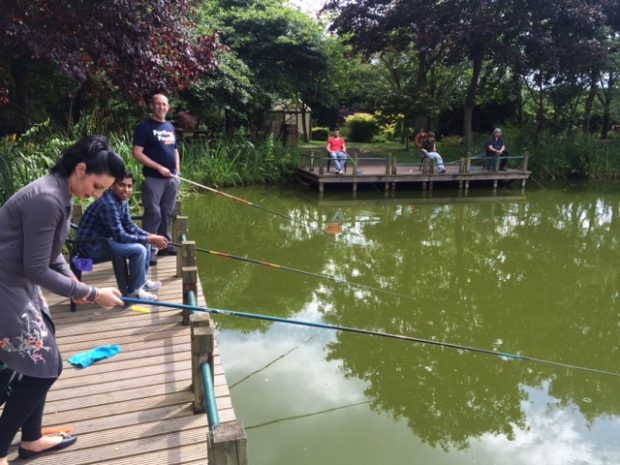 Being a Product Manager is about championing the needs of the users of a service. Our team, responsible for the "I want to fish" service (of which buy a rod fishing licence is a part), has got into the habit of summing this up with 3 words: "Be the user."
There was one small problem with that, though. Our users are anglers, but most of us on the service development team had never picked up a fishing rod before.
So we decided to do something about that.
Knowing that we didn't know enough
The more we thought about the phrase "be the user," the more it filled us with dread.
Beyond knowing we needed a licence to fish, and where to buy it from, we didn't have a clue about angling. We had no understanding of the equipment needed, how anglers move it around, or where they buy it from. We had no idea what to wear. Trainers or wellies? We were clueless. We wanted to "be the user" but there was so much we didn't know about our users.
It's so much more than just buying a licence and turning up.
We actually went fishing
We started by talking to people. We asked anglers and the Rod Licensing team in the Environment Agency (our tester is an angler so he became our oracle), and we spoke to bailiffs who go out and check licences.
Gradually, we found out some of the basics. We found out what to wear (for our purposes as beginners, a t-shirt, jeans and trainers would be just fine).
The great thing was that everyone in the team was excited about going fishing. We were all keen to give it a try. And it was great fun! Almost everyone caught a fish and got an appreciation not just of angling and the experience both regulars and first timers have, but also of how to handle the fish once they're caught. We learned to not remove their protective slime, the importance of removing the hook from their mouths, and getting them back into the water as quickly as possible.
We learned that anglers:
want to understand how their licence money is spent
would like to see more bailiffs out checking licences
have a lot of patience (that's part of what fishing is all about)
These insights will be helpful for us as we iterate the service further.
It was a great day out. By making an effort to understand our users better, we've all come back with a new perspective of how their minds tick.
The moral of this story is this: if you can spend some time to be your user, you should definitely go and do it. You'll learn more than you expect, and come out of it with a much better understanding of what motivates your users. The better you understand your users, the better you'll be at meeting their needs.