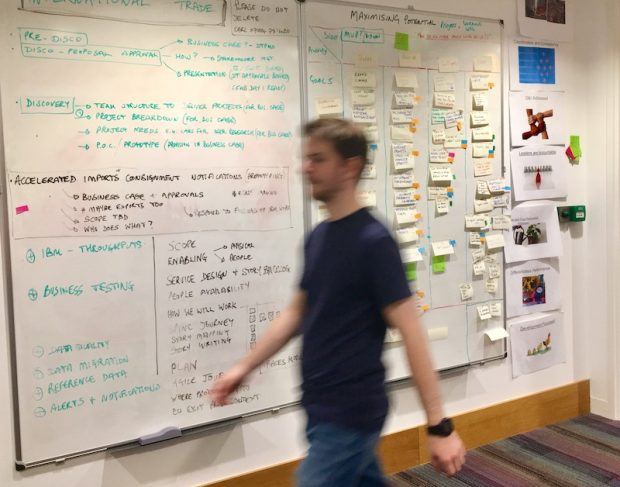 Regular readers will know about Defra's "smarter working" initiative, as explained by our COO Betsy Bassis in a recent blog post. It means adopting a user-centered approach to the processes and services our staff use every day.
One of those processes is performance management, or "PMR" as many people know it. Like most organisations, the civil service uses a performance management system as a way of feeding back to people how well they are doing in their work and providing them with the support and development they need in order to fulfill their potential. Performance management is not just about the end-of-year PMR meeting between a line manager and the person they manage, it's about day-to-day feedback and is one of the things that sits at the heart of how we work together and deliver as an organisation.
That said, the way we do it is at the moment is cumbersome. Feedback we've got from surveys, from unions and networks, and directly from our staff has made that clear.
My message to our staff is: we hear you. We agree. It's definitely time for change.
What's not working
My job is looking after people and HR processes for the Defra group. That includes making performance management better. Radical change to the entire system is probably a good idea, but that will take time. So as Betsy mentioned in her blog post, we've been looking at small, quick fixes we can make now, to make people's lives a little bit easier.
A small team has been working on identifying and implementing some of those fixes. They started with asking the people who actually use the system what they think and feel.  They they found out that:
the whole process feels clunky
there is too much focus on two meetings each year which prove to be very time consuming
the conversation people are expected to have with their line manager gets lost in the bureaucracy
A few small, quick fixes
Here are a few changes we've made, or are making soon, to make things better.
People said:
"The gap between my final 1:1 with my line manager and final validated marking being confirmed is soooo long!"
Our fix:
A lot of this gap is down to process, and we're trying to simplify and speed that process up. This year, we've managed to make it about a month faster (final marks were confirmed by mid-June, rather than mid-July the previous year). Progress, but not the whole answer. We're going to keep looking at this.
People said:
"The language of 'Must Improve' is just unhelpful."
Our fix:
During the performance management process, staff are sorted into three very broad categories: "Exceeded Expectations", "Met Expectations," and Must Improve".
We agree, the phrase "Must Improve" doesn't help. So now it's gone.
We've changed it to "Additional Support and Development Required". Still a little clunky, but early feedback suggests that this feels better for people, and we can change it again if we need to.
People said:
"Do we really have to fill out a form that won't allow us to use spell check?....Really?"
Our fix:
Bizarrely, this was true. The old performance review form we asked all staff to fill in did not allow people to do a simple spell check. We've fixed that.
We have also:
improved guidance documents on our intranet, to make them easier to navigate
created a route map to help people track their progress through the performance management process
set up support for managers who have staff who fall into the new "Additional Support and Development Required" bracket
We're doing this in an agile way
Crucially, and echoing Betsy's words in her post back in July, we're putting users first and working in an agile way. We're not software developers. Agile ways of working are new, or sort-of new, to most of us. We're learning as we go.
But we've already learned that if we put users first, we're more likely to get an outcome that works for those users.  Not rocket science, I know.
We've already met loads of our users and we're started to develop a really great sense of what we need to change, and how to keep improving.
We are shifting the attention on to the 'conversations' because both lots of people (those who manage, and those who are managed) told us that performance management should be more than just a bureaucratic process.
What's next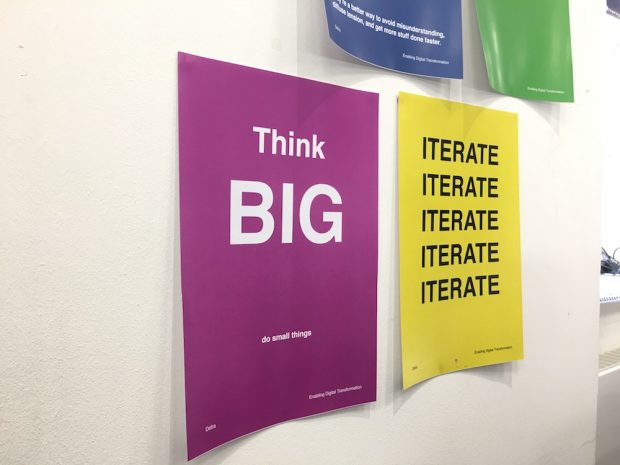 We're planning to:
find out more about how we can help people early on in the process, when they're expected to write their own objectives for the year
look at ways of providing support for and a more coaching approach to  the regular one-to-one conversations which should be held throughout the year
do some more research, to find out what workarounds people are using because the process is cumbersome
There's a poster that's gone up around some bits of some Defra offices recently: it says "Think big, do small things." That's what we're trying to do here. None of these changes is very ambitious or difficult to do; but combined, they have an impact. It's only since we started working in an agile way that we found out, by putting users first, what those small changes could and should be.
Watch this space. There'll be more.