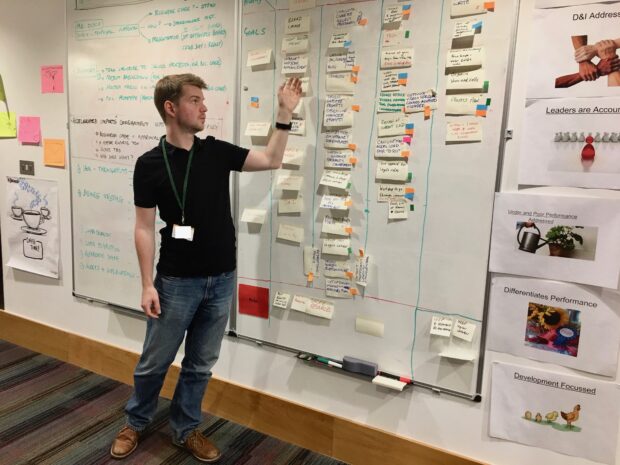 In recent years, we've started to take a user-centered approach for building software and services. Now we want to do the same thing for the processes and services our staff have to use every day - things like booking time off, or recording sick leave, or doing performance management.
We call it "smarter working". In this post, I want to explain what that means in practice, and why it's important that we do something about it.
A lot of shared problems
Everywhere I go in Defra, I talk to people. That's an important part of my job. I want to know about the things that bother them, because fixing those problems is also my job.
Everywhere I've gone recently, people have complained about the same things:
our HR software platform, which is difficult and time-consuming to use
the way performance management works
the way staff feel pulled towards our London offices
lots of little technical problems (like online video not working for some teams, but working fine for others)
People tell me they feel like they're constantly fighting against the system, just to get their day-to-day work done.
That has to change.
Let's make Defra a better place to work
Fixing all of those things will take time. I want to start by taking practical action that makes a difference - less talking about doing, and more actual doing. If there are quick, simple fixes we can make right now, let's start with those.
I want to focus on the pain points that people have to deal with every day. We employ thousands of really good people who do really good work. But the stuff that surrounds their work - like the policies, processes and systems that govern things like HR, IT and finance - shouldn't get in the way. Too often, that's exactly what happens.
My goal is to reduce that pain and remove the aggravation, so that we can free up people's time and energy for working on the things that matter most. All those good people we employ should have more time to get on with using their brains for the things we hired them to do.
This isn't about squeezing more people into less space. This is about making Defra a better place to work, by removing some of the things that make work itself more difficult.
Taking a user-centred approach
The "smarter working" initiative that we've set up is about embedding user-centered thinking throughout the organisation.
It takes the same users-first focus, the same agile ways of working, the same collaborative and open approach that our software and service design teams have started using, and adapts them for use in non-software teams.
Here's an example: just a few days ago I attended a show-and-tell by members of the performance management review team. (That's what you can see in the photo at the top of this post.)
They're looking at all aspects of how we do performance management. They're starting with user needs, and working in agile ways (which for some members of the team, is something they've never done before). Theirs is the first non-software team in Defra to be working this way.
It was heartening and encouraging to hear them speak about the progress they've made, and how they're adapting to agile working. During the show-and-tell, several team members commented on how being agile was a positive and helpful way of making progress on a large and complicated piece of work.
We're just getting started
That's just one team, working on one thing. Smarter working is a much larger, longer and more ambitious idea, one that's going to spread into everything we do and every team that's doing it.
It matters because it will make a real, practical difference to the people who work for Defra. My goal is to minimise the bureaucracy, focus in on a small number of pain points, and give people permission to do what's necessary to fix them. Action speaks louder than buzzwords.
I also want to make sure we're as open as we can be while we get this work done. The more we can share, the better our colleagues will understand and appreciate what we're doing, and the more we might be able to help colleagues elsewhere in government too.