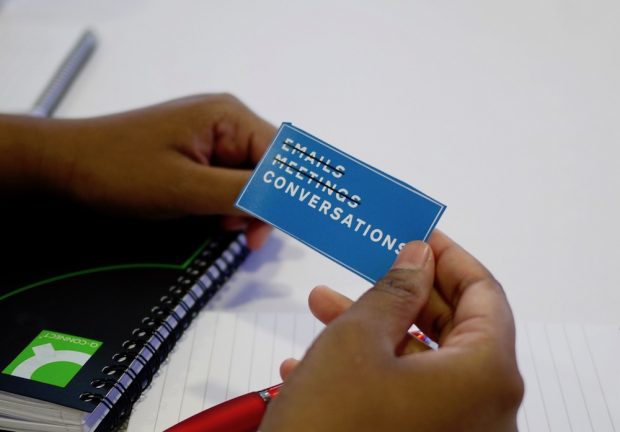 I want to talk about the subtle shift in communication approach within teams.
Effective digital teams are good at trust and openness. It takes time to build behaviours like these, but I think they're essential if you want your team to do good work. They're fragile, too: trust, in particular, is very difficult to build and easy to break. But they help teams play nicely together, especially when there's pressure to deliver quickly.
Key to building trust and openness is a subtle shift in the way teams communicate.
Trust and openness improve and grow when there's more real-time communication. Agile teams are more likely to talk - preferably face to face, but failing that using either phones or video calls. More talking means less emailing, and I believe that's a good thing. Email can be impersonal, sometimes even misinterpreted. Endless email checking is miserable for everyone, and takes its toll on productivity and morale. The more email we send, the less coherent our work as a team, and the more often we miss deadlines because someone didn't read an email in time.
Conversations cut confusion
Face-to-face conversation is much better at diffusing any tension or clearing up a misunderstanding. How many of us regularly email someone sat in the same room, or have been part of email chains that are misinterpreted, or have sent an email and not followed up? As Bob Hoskins once said, "It's good to talk."
In Defra we are not always sat in the same room so face-to-face conversations are often difficult, but as I say: we have phones and can use video calls. The team I lead (Enabling Digital Transformation, also known as EDT) uses free services like appear.in all the time.
We have all used Microsoft Messenger or similar tools for quick chats. They're good for individual one-to-one or group conversations. New tools, such as Slack, are better for team collaboration, maintaining history of conversations, and sharing learning. Slack has great traction in digital delivery teams across government, and is a wonderful tool, but we have to be careful with it - we can't use it for anything sensitive.
Whatever tools we use, the change I think we need is a change of attitude. Conversation is quicker, simpler, and achieves more, no matter how it happens (via messaging app, phone call, or video call).
One last thing: I'm not saying email is dead. It has a place. It's good for tracing discussions and decisions. It's good for contacting new people outside your team, or even outside government. Email is definitely a useful tool, but we shouldn't rely on it as our only tool. If we want more trust and more openness, we need to take Bob's advice, and talk more.