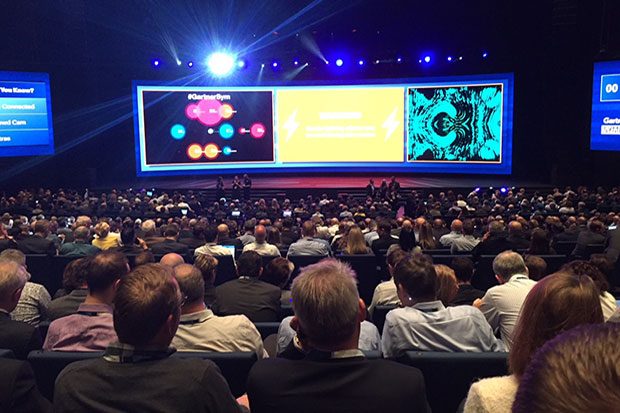 Malcolm McKee  (Chief Technology Officer) and I were fortunate enough to recently attend the annual Gartner Symposium in Barcelona.
You might imagine that a short trip to Barcelona in November is like a mini-holiday. Whilst not quite that - it's actually a very intensive way to immerse ourselves in the emerging trends and innovative advancements shaping IT and business over 4 days - it certainly was an opportunity to escape all the pressures that come with delivering wholesale technology improvements during the biggest political change in a generation.
The rate of technological transformation can be difficult to keep up with, even for us in Digital, Data and Technology Services (DDTS) who live and breathe it daily. But remaining relevant is an important part of our role, and a big part of how we do things in Defra group.
It is easy in the hustle and bustle of things like EU Exit to forget how much transformative and innovative work DDTS and others across Defra group are collaborating on.
From adding intelligence to our imports process though Machine Learning and Data Science, to using Robotic Process Automation in the licensing and permitting space, we have demonstrated the transformational impact of technology to business problems - and don't get us started on Blockchain!
Over the 4 days, we attended around 30 hours of lectures covering everything from:
how to create the right IT and business roles, and the right culture
deliver digital transformation
the 7 digital disruptions that we should be aware of
So we thought we'd share some of our takeaway learnings with you.
'ContinuousNext' framework
This year's event was built around Gartner's 'ContinuousNext' framework (yes, we too thought the branding left a lot to be desired). But it is a solid framework, bringing together 5 important areas that digital businesses like the Defra group (and we are a digital business) should focus on to embrace perpetual change and shift the pace from inertia to innovation.
Privacy
Privacy is increasingly being regarded by consumers as more important than convenience, which represents quite a shift. For example, overall Facebook use is reducing and people are more aware of their privacy settings, controlling what personal information is shared and who can access the latest photograph or post.
Our challenge is how to increase the take up of digital services in a way that protects privacy and security. We need therefore to continue investing in GDPR compliance, data and information best practice and our cybersecurity function, to demonstrate how we secure the privacy of our citizens whilst delivering excellent service, digital or not.
Augmented Intelligence (AI)
Augmented Intelligence (because Artificial Intelligence is so last year) is an area of massive importance for the group. AI spans a lot of solutions, from speech recognition to intelligent humanoid robots.
In the Defra group, we are already trialling the use of AI to help people make better decisions.  There is still apprehension about how adoption of AI will impact jobs, but research from companies that use AI shows that 57% report no change in resourcing, 26% report job increases, and only 16% report a reduction in the number of jobs.
Culture
Culture is a critical business success factor, we think we can all agree on that.
Government Digital Services have been a strong proponent of the 'digital culture' for example championing the use of multi-disciplinary teams. But 46% of companies interviewed still see culture as a barrier to change.
So, Gartner propose the adoption of the #Culturehack. What does that mean in practice? Simple, practical things like walking into a meeting and asking people how it is contributing towards the departmental strategy, and if it doesn't, why is the meeting taking place? Or creating a culture of 'Yes', with a rule that decisions must be made within 48 hours.
This is a massive challenge for commercial organisations, let alone the public sector. But why not? We know that where there is a will there is a way, clearly demonstrated by the implementation of the Defra group EU Exit Operations Centre which provides a dedicated and resourced space for teams to raise and unblock issues that stand in the way of our 'no deal' readiness, through rapid decision making, including with ministers.
Digital Product Management
Digital Product Management is another area where the Defra group is already very strong.
We use service owners and product managers to deliver and continuously improve our digital services, and in DDTS we are currently implementing the product manager concept for our common platforms.
The issue is one of resourcing. There are not many people in the market with product management skills, so we need to train our internal talent to play this critical role.
Digital Twins
Digital Twins is all about the concept of using digital models of real things to experiment, improve and run scenarios without disrupting or risking the real thing. Digital models of assets like aircraft and power stations have existed for a long time but what is exciting is the possibility of creating digital twins of people, farms, forests, departments or whole organisations.
Transformational change
Each of the above on their own is a powerful catalyst for change. But combining all of them can be transformational.
The Defra group published its new strategy in October 2018, having already published its 25 year Environment Plan. And we are currently finalising our DDTS Strategy, which we will publish over the coming weeks.
To be successful as a group we must continue to build the resilient core services and components that form the foundations of our dynamic, adaptive and responsive digital capability.
We must also explore the future technologies and innovations that do not just sound good, but can really transform our capability, and help us deliver our corporate strategy. And if we get to do so from Barcelona, all the better.
Find out more about the Gartner Symposium in Barcelona.