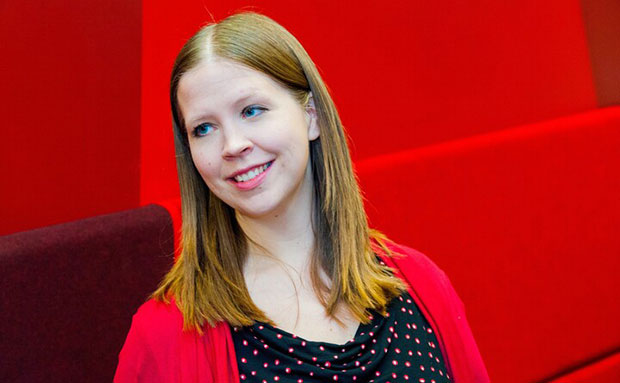 A key part of managing waste is making sure people can register and renew their waste exemptions easily and quickly, for example when storing, using, treating or disposing of waste. Renewing one of these exemptions used to be a complex and lengthy process. But that all changed in August with the launch of the Defra Waste Exemptions renewal service.
The team I work for (Ruby Waste Services Team) is responsible for managing this new service. The service allows people who are managing certain types of waste, in small quantities that will not harm the environment or other people, to register for a free waste exemption instead of paying for an environmental waste permit. Each exemption has limits and conditions that applicants must meet.
Monitoring performance
Using a monthly data dashboard our team has been monitoring the performance of the service – and the signs are really encouraging. The most recent statistics show how the service has gone from strength to strength since it launched last summer, highlighting its increasing popularity amongst users.
We've had more than 13,000 registrations for an exemption during that time, nearly 3,000 of those in March alone.
Focusing on users and 'digital by default'
Rewind 12 months and the Waste Exemptions service was in need of a revamp. It was clear from our research that users needed a way to renew their Waste Exemption registration simply and quickly. Previously, users had to register from scratch every three years in order to remain registered and compliant.
The Ruby team carried out extensive research to understand what users need and designed a process that worked well for internal and external users. Users are now sent a 'magic link' via email allowing them to renew their registration within four clicks. They can also easily edit their registration details if they need to make changes during their renewal.
What is particularly exciting is that digital up-take is high too, with 98% for new registrations and 99% for renewals. We also estimate that more than 2,500 user hours have been saved using the new service.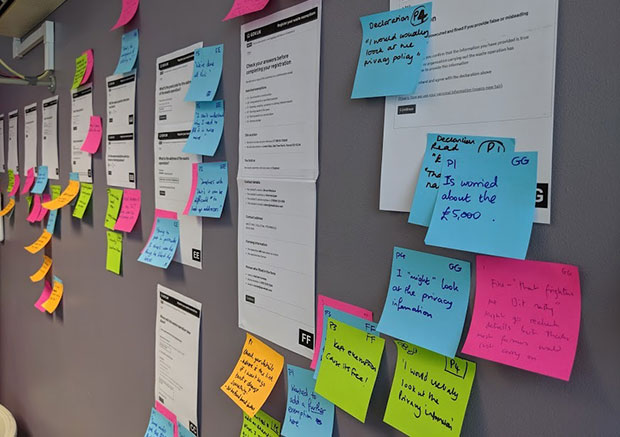 The users know best
We're really pleased with the feedback too, it's been extremely encouraging. People have contacted us to tell us what a simple, easy to use and efficient system we have introduced. Some have used words like 'very straightforward' and 'quick and easy to use'.
One user described the system as being 'as close to perfect as it could possibly be'. And one farmer even wrote to us to say 'As farmers we never stop filling forms in - yours is tops and easily understood, thanks'.
Adapting to the new normal
Like most people at the moment, as a team and as individuals, we have found ourselves having to adapt to the new world we find ourselves in. Coronavirus (COVID-19) now means we're using revised ways of working to support our delivery, such as video calls so we can keep in touch and still maintain that face to face feel. We've condensed meetings to support new working arrangements, and we are using Slack as a catch-up tool for those working during unsociable hours.
We have also focused on what 'we can do and deliver', planning our work to closely match the current priorities, responding to COVID-19 needs rather than what might have previously been next on the list.
User research is a challenge at this time; people are naturally less engaged as they are understandably distracted with other things. So, we're looking into different ways to remote test, such as 'first-click' surveys that users can complete quickly in their own time. We're also exploring the best incentives to encourage participation.
Teamwork is key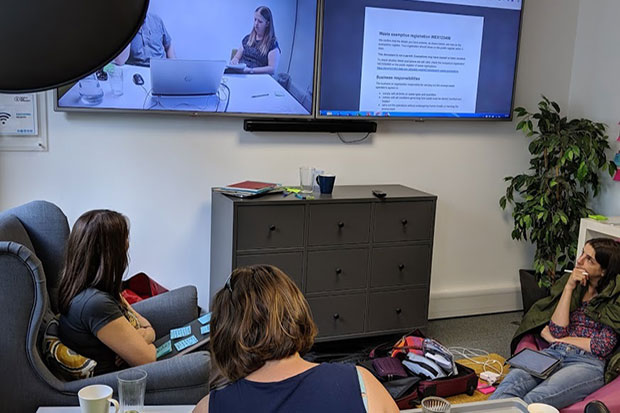 The team have adapted well to this weird life, and in the last sprint we managed to smash all our goals!  Our team is close-knit, so we make sure there's time to socialise and talk about lives outside of work as well.
Finally, we're monitoring user feedback on a weekly basis to understand what challenges people are facing in the current climate. Now more than ever, it's important to stay in close contact with our Waste Exemption users so we can understand and address their most pressing needs.