Defra is the UK lead department for the INSPIRE Directive, the UK is leading the way in INSPIRE implementation. In this post we provide an introduction to INSPIRE for those who are new to it and an update on progress with implementation.
What is INSPIRE?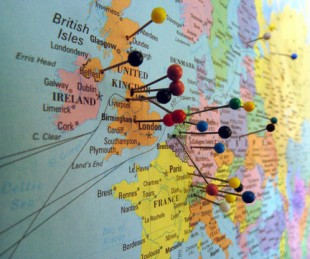 The INSPIRE Directive and associated UK Regulations demand that all public bodies publish any geographic information they manage that relates to a series of 34 environmental themes. The Directive sets out how the data should be published, it does this by specifying standards that must be used, broadly INSPIRE says public bodies must do 3 things:
Publish geographic data -- using standards compliant network services to make data available to view and download
Make the published data and services discoverable -- by providing discovery metadata through a geo-portal
Harmonise published data -- by applying European data specifications, there's 1 per INSPIRE theme
By now public bodies should have completed activities 1 and 2, a series of deadlines for 3 run out until 2020 (some have already passed!). The timetable is quite complex but it is explained in our UK INSPIRE What & When Guidance.
How is it being implemented in the UK?
In the UK we are taking a distributed approach to INSPIRE, public bodies must identify data they hold that is in-scope of the themes and publish it in-line with UK standards and guidance. To make the UK's INSPIRE data discoverable public bodies must register their INSPIRE datasets and services with data.gov.uk (which acts as the UK's geo-portal) using UK GEMINI Metadata (a widely known and used geospatial metadata standard). This is a key step in complying with the legislation.
Defra's role is to provide monitoring and coordination to ensure public bodies are performing their duties in the correct way.  We have a team of about 3 people who do this by:
leading the UK INSPIRE Compliance Board - a board that monitors the risk of non-compliance involving Defra, the devolved nations (including Gibraltar), Local Government through LGA and technical delivery partners (including Cabinet Office & Ordnance Survey)
supporting an Architecture & Interoperability Board - a board of technical experts from UK public bodies, academia & industry that sets our technical policy & standards and assures the UK Location Information Infrastructure
engaging with the EU - by voting on the INSPIRE Committee and ensuring the UK is represented in the many pan-European INSPIRE policy & technical maintenance groups
providing support to data publishers - through a comprehensive suite of UK guidance, through a helpdesk, and by providing briefings and advice in priority areas, essentially where the risk of non-compliance is highest
reporting to the EU - through annual monitoring reports
Is INSPIRE in the UK a Success?
We have achieved a lot...
There are now over 8000 geographic datasets and associated network services registered with data.gov.uk  from 100's of public bodies. Not all of these are in-scope of INSPIRE because we have encouraged public bodies to focus on sharing geographic data in the broadest sense - inline with the wider open data agenda.
We have set up the UK Location Information Infrastructure this includes the: central catalogue at data.gov.uk, UK standards, guidance and tools for data publishers and the helpdesks and support networks.
We have ensured the UK has a strong and respected voice in Europe on INSPIRE. We have supported UK representatives working on maintaining European INSPIRE legislation, standards and guidance (of which there is a huge amount); promoting the need to simplify and refine INSPIRE at the European level to make it better for data publishers and users.
We have put in place proportionate UK INSPIRE governance arrangements involving all key stakeholder groups.
We are starting to adopt INSPIRE standards & technology approaches in building digital services.
There is more to do...
Everyone involved in INSPIRE in the UK needs to do more to promote the data that is available because of INSPIRE to potential users (including other publishers). Users are typically specialists such as geographic data analysts, system/app developers and data scientists who provide products based on INSPIRE for end users.
INSPIRE publishers need to understand that publishing data under INSPIRE is a commitment. They need to apply continuous improvement to the data, services and metadata they have published to ensure they remain up-to-date and to make them more useful to users.
We need to start providing support to public bodies to help them harmonise their data with the EU Data Specifications.
Help and support…
Inevitably different public bodies with INSPIRE obligations are at different stages on their INSPIRE journey, we will continue to provide help and support to them, but increasingly INSPIRE is part of the fabric of the UK geo-data industry:
If you'd like to find out more about INSPIRE or need some help please visit data.gov.uk/location to find out more.