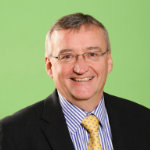 Today we have a short post from the retiring Environment Agency Chief Executive Dr Paul Leinster:
I am coming to the end of my time as Chief Executive of the Environment Agency, an NDPB within the Department for the Environment Food and Rural Affairs (Defra);  I am retiring at the end of September.  I thought it was opportune to reflect on the Environment Agency's data journey so far and how we are rising to the Secretary of State for Environment's #OpenDefra challenge.
I believe that good data is critical for making good decisions.  Millions of people depend on the Environment Agency's data and information and the decisions we make.  For example, we need good data to be able to forecast and manage flood risk and to reduce its impacts. Our data is used by others in environmental searches when buying a house, for example, by informing a buyer if the area is prone to flooding or near a waste site.
Since I became Chief Executive in 2008 I've seen more people value our data and see it as a valuable asset.  A year ago we made a commitment to become a fully open data organisation.
We were already on our journey when, on 25 June 2015, the Secretary of State for Environment, Food and Rural Affairs outlined her vision for open data.  She gave a commitment that Defra would release substantial data holdings (at least 8000 data sets) by 30 June 2016 to support emerging businesses and innovation.  The Environment Agency will play a strong role in helping Defra achieve this target by releasing a significant number of data sets.  This is an ambitious target and it will not be easy but we are up for the challenge.
I'm a firm believer that managing and using data is a fundamental and essential part of everyone's job in the Environment Agency.  In 2010 our Executive Directors decided to improve how we manage and use data across the Environment Agency and redoubled our efforts in treating data as an asset that underpinned all that we did.  Leadership from the top has demonstrated the importance we place on good data and was our first step in a cultural shift to the way we treated and used our data.
I am fully committed to the wider value that can be gained from open data.  Our data will be used in ways we could never predict and will help deliver outcomes through others.  These are exciting times and I look forward to seeing the tangible benefits of the drive for open data.