Delivering Defra's First Data Unconference: what happened, what we learned, and what we're planning next
This blog breaks some rules of blogging: it's long, quite a bit after the event, and tries to do more than one thing. However, it will hopefully serve as a springboard for future ideas. Intrigued? read on!
What we learned (the short version; longer version below):
Blog more quickly after the event. Do video stuff separately rather than let it slow a quick blog down!

Have a hashtag

Make sure intended users are there

That we like doing things collaboratively
You can get a quick flavour of the event by watching this:
What happened?
Way back in the mists of time in late March (an age in the world of open data), the Defra Data Programme worked with the CAP policy team to bring together policy experts (or 'wonks' as I've heard they like to be known), data innovators, technologists and developers, to imagine how open data and new technologies can make CAP inspections more efficient and less of a burden for farmers. Participants were encouraged not only to think about how this could be done within current legislative constraints, but also how new ways of working – with new tools offering better ways of capturing and sharing data – could help make the case for a redefinition of those constraints.
The morning kicked off with James Cattell reminding everyone of the objectives of the day. The rules were simple: don't be on fire; have fun; vote with your feet; let people speak – the focus of the day's activities being the series of challenge areas posted around by the room.
Defra's Director of Food and Farming, Sarah Church, explained what the Department was hoping to achieve by running the event.
Julie Faria and Adam Fenn then introduced short talks on each of the challenges, which were as follows:
Inspectors are currently required to walk the boundaries of fields in order to validate the mapping data provided to RPA. This can take days to complete on large farms.
Inspections may involve visiting dispersed farm holdings. This requires considerable inspectorate time and resources.
New, more complex 'greening' requirements of the CAP are difficult to measure using existing techniques, eg identifying 1m wide buffer strips. Greening controls, which are restricted to the designated 'cropping period', mean a high number of visits are required in a short time and at least one set of remote sensing imagery has to be taken within this period.
Data sets gathered by satellite (and to some extent aerial photography) can be impacted by the presence of cloud cover. This makes it difficult to obtain mapping imagery at the frequency required by the CAP.
CAP controls require numerous cattle ear tag inspections, which are time-consuming for farmers and stressful for the animals
CAP Control require check of environmental factors such as water quality, soil erosion and soil organic matter. These require repeat/time-consuming site visits.
CAP controls require a large quantity of document checks, which are currently difficult to do without prolonged visits to farms.
Drones have been identified as a potential alternative ti inspecting farms by foot, but there are a number of operational challenges.
RPA faces challenges around the integration of new and alternative data sources, such as radar and LIDAR, with existing remote sensing techniques.
Preparation for, and write up from, site visits is time consuming for inspectors.
Well-fed with pastry products and information, and high on caffeine, the participants then 'self organised' into groups, each making a beeline for their favourite challenge.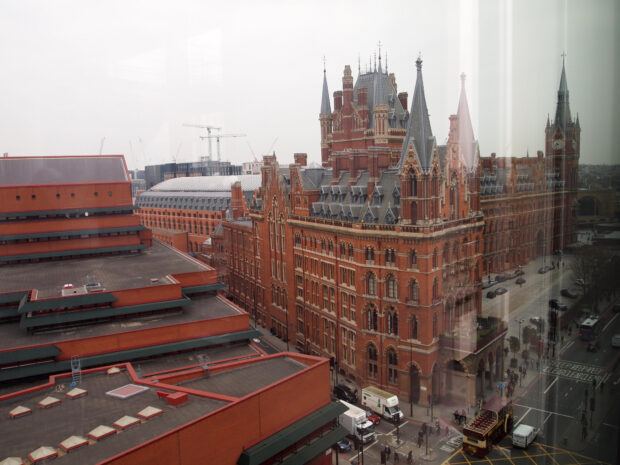 The teams reported back before lunch, and while it quickly became clear that bringing together people with different backgrounds was incredibly valuable – many participants' proposed solutions to the challenges were naturally constrained, not by technical limits, but by legislative ones. You can watch the groups' feedback here.
We learned that:
we needed farmers and inspectors in the room
we need to outline challenges not presume technological outcomes or limitations of known technologies
we need to encourage people to question
people just start discussing and there's no need to over structure
dress code should be "come as you are"
we need to agree and advertise a #hashtag, eg #opendefra
we need to focus on the economic benefits our data offers
we need to think beyond the regulations
What we're doing next:
We thought that the event was a great way of bringing people, who may not normally speak to each other, together in a room to solve problems. We may not have brought all the right people together this time, but that's an important learning for us: we need to target our end users. In this instance, it should have included farmers.
As Sarah Church said, releasing 8000 datasets is just the beginning. We're want to bring together the custodians of this data with policy wonks, experts, innovators and users in a series of events starting right now. But we want your help and expertise to do this.
The first of these events has already been conceived by @MrMikeRose. We want to bring together farmers and data innovators. And we have a whole slew of others planned, including looking at flood risk management, a follow-up CAP event, and more. You can contribute to our ideas here (feel free to edit!)
We're also looking more broadly at how we might run an Undefra conference. Again, we'd like your help!
If you need some inspiration, watch the video at the top of the page or see our Storify for the event below.
On 23 March, the Defra CAP policy team and Data programme team convened a mixed cohort of policy experts, technologists and data innovators to explore how remote sensing, earth observation and open data can reduce the burden of farm inspections on farmers.
This is what they came up with.
https://storify.com/Sjanusz/cap-data-innovation-event-23-march