Update #3 [04/07/2016, 17.05] Updated the unconference timetable image, courtesy of Daniel Hallam from MMO
Update #2 [04/07/2016, 16:56] There is a transcript of the Environment Secretary's announcement of total open datasets published by Defra group below.
Update! We have a final total of 11,007 open datasets now published by Defra group as of 4pm on 28 June 2016 – 10,146 since 25 June 2015, when the Secretary of State made her announcement of Defra 'going open'. And this is just the beginning.
Just over one year ago, on 25 June 2015, Defra's Secretary of State, Liz Truss MP, announced that over 8000 datasets from the department and its arms'-length bodies would be made available as open data – data anyone can access, use and share – before the end of June 2016.
The drive to publish was to kick-start a data revolution within Defra, which would see data that could be used by Defra's customers, including businesses, charities and partners in the public sector, is made available for them with minimal restriction. Better consideration of the useability of data in turn improves sharing and use of data within the Defra group, joining up the network of agencies and delivery bodies and enabling data-driven decision making across the group.
We have seen Defra's data being used to power apps that tell people about their local river levels and risk of flood, or let leisure-seekers  know about the water quality where they choose to swim or engage in outdoor pursuits. We have seen data being shared more easily across the group, to coordinate multi-agency response to flooding incident. We have also seen Defra's data used to chart changes in food consumption, identifying how food trends link to popular culture and changes in lifestyle. We've seen 3D maps made from LiDAR data used by archaeologists to find lost Roman roads in our countryside, and imported by the maker and educational communities into the computer game Minecraft – both things we couldn't have imagined it would be used for.
We marked  the end of this first pilot phase with an event on Tuesday 28 June, which we called the #OpenDefra DataMarket. Data custodians and users set up stalls to show how Defra's data is being used, and discussed how it might be improved in a number of sessions.
At 4.30pm (approx.), the Secretary of State for Environment, Food and Rural Affairs, Liz Truss MP, made the following announcement:
I'm pleased to announce that Defra has exceeded its target of 8,000 open datasets – in fact we've got to 11,007. This is an amazing achievement.

I think this momentous result puts events over the past week into perspective. [laughter] Maybe…

The approach to open data you've seen over the past few months from this department has been absolutely fantastic.

We now represent more than a third of the government's total open data. This is amongst the most highly valued data in the economy − by environmentalists and by volunteer groups.

It's fantastic that this department is leading the way.

The House of Commons Committee for Science recently praised Defra in particular for its use of satellite data – we really are at the cutting edge.

At Defra, this means we can implement the referendum decision in the best possible way for food, farming, the environment and our rural communities. We're all putting our shoulders to the wheel to make this happen.

Programmes like OpenDefra are incredibly important as we prepare for a new Prime Minister.

The work you've done on open data will give us the tools we need to embark on the significant amount of work that needs to be done.

You've done a tremendous job, but what I'd like to see now is more data! And also to make sure that we're using that data to the very best effect, to inform these very important policy decisions.

The country has taken a decision. It's had its vote. Let's make sure we implement that in the best possible way and use all of our data capabilities.

We are a world leader. We're using data to analyse Roman Roads we didn't know about using LIDAR. We're able to identify rare species.

We're able to design farming and environmental schemes using data and we're able to plan cities that are both environmentally friendly and lead to economic growth.

These are just some of our fantastic applications of data. I think my personal favourite is the food survey data that we've released this year. This shows we're now eating more butter and less margarine than we used to – something I'm certainly leading the charge on.

I really do appreciate all the work that you've done. Thanks to everyone who has taken part today, and I wish you well over the coming months.
--
You can see an aggregated Twitter feed for #opendefra here.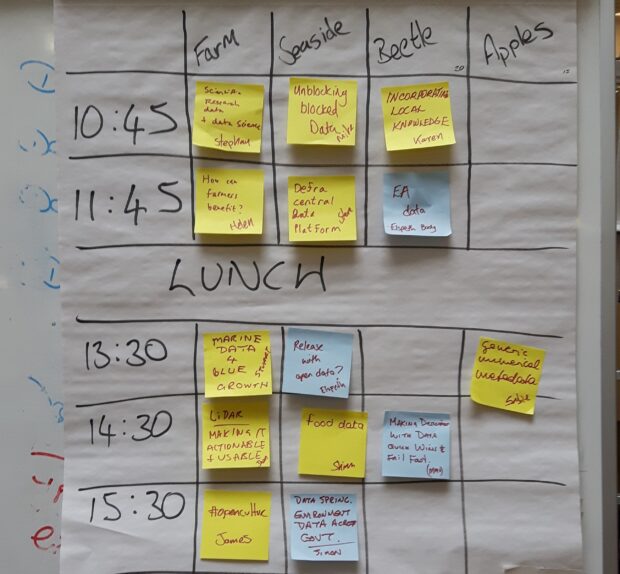 Now, we have to be clear: this open data drive really was just the beginning, involving 10 parts of the group, including the core Department. The next steps are to make sure that the data we've published is as useful as it can be for our users' needs, and we'll be iteratively improving what we've published based on that feedback. We'll make sure new datasets are published, from parts of Defra group that haven't been so heavily involved up to now. Of course, we'll also be using the coming weeks to take stock and, after many hard months of publishing and all it entails, there will be a pause to take breath. But in no way is this the end.
Over the coming weeks we'll be featuring some of the use cases from the DataMarket right here. Watch this space.
There's a Storify below!
We all had fun at the OpenDefra DataMarket. And here is the proof.
We all had fun at the OpenDefra DataMarket. And here is the proof.
https://storify.com/OpenDefra/opendefra-datamarket