Healthy competition is a fantastic way to focus teams on tasks, concentrating efforts on a single goal within a time limit. The space race, the Sinclair-Acorn 8-bit computer race ('the battle for our classrooms'), the race to claim priority for the discovery of buckyballs, and more recently, the Eden Catchment Data Modelling Competition, which while not called a race, undoubtedly shared many of the attributes of all those other races.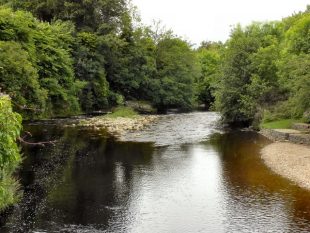 Launched back in July in the Nobel House Atrium, when the weather was markedly more clement, the competition focused the attention of participants to use flood and catchment data from Defra's now 13,000 open datasets, plus some special one-off releases from the Met office to model the River Eden.
The challenge they were set was: "If you were responsible for managing the Eden catchment in Cumbria, what flood risk management approaches would you recommend, and why?"
Since then, participants have been busy beavering away to solve this dam-difficult problem. On Monday 14 November the winners were announced, in an unnervingly mild Nobel House 8th floor. At the time of writing several days later, the weather has turned chilly and, while in London we are blessed with a light frost, the banks of the upper Eden are covered in snow – perhaps underlining how unpredictable weather in Cumbria can be.
The top prize in the competition was warded to Jeremy Benn Associates and Lancaster University. Theirs and a number of other winning entries are set to help development of the Cumbrian Pioneer Project, one of the four new trailblazing projects the government will be launching as part of its forthcoming 25 Year Plan for the Environment.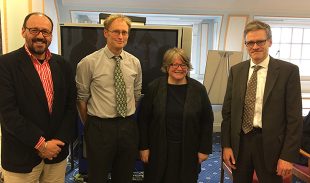 Speaking at the event, Floods Minister Thérèse Coffey said:
"I would like to congratulate all the winners of our Cumbria Flood Modelling Competition and thank them for taking time to help with a hugely important issue.
"This competition has been a fantastic opportunity to benefit from the wisdom and creativity of floods experts from around the world. We will now be able to use these new ideas and insight to help better protect not just Cumbria's people, businesses and infrastructure from flooding but communities across the nation."
Jeremy Benn Associates and Lancaster University's entry used a combination of natural flood risk management: planting trees and reinforcing the natural resilience of forested areas around those (currently snow-banked) headwaters; building flood storage systems further down the valley. This, combined with property-level protection downstream and better use of flood reporting systems, earned them the prize. You can read Jeremy Benn Associates own report here.
Proposed measures include:
Natural flood risk management, including large scale flood storage in the lower catchment.
Improved interpretations of flood warnings.
Interactive maps showing property-level impacts based on detailed models.
Barry Hankin, Head of Environmental Modelling at Jeremy Benn Associates, said:
"It is a real honour to have received the top prize in Defra's competition. Our entry builds on over 10 years of academic research and industry innovation, combining advances in computer modelling and data analysis with local engagement.
"This prize money will help us to keep looking into flood risk management strategies that include both traditional and nature-based measures, and we're already engaging other river catchment areas to see how our modelling approach to the Eden can be applied elsewhere."
Runners-up Innovation awards have gone to:
Dutch Consortium (Royal Haskoning DHV, Nelen and Schuurmans, Deltares, Delft University of Technology) – concentrated on the benefits of integrated and collaborative working between partners and how modelling can be better used to understand how water flows through the catchment.
Sayers and Partners LLP and Horritt Consulting (Paul Sayers and Matt Horritt) – looks at how modelling can mirror important aspects of the catchment in order to more accurately assess factors that affect flood risk.
Durham University (Sim Reaney and Callum Pearson)–  supports modelling of map locations to assess where river management techniques could be better used to 'slow the flow'.
The prize was sponsored United Utilities, Aviva and the Natural Environment Research Council.
The Data Programme would like to congratulate the winners on heir success in this competition, and look forward to future competitions using Defra data to solve problems in policy areas across the wide remit of the Department and group. Watch this space.