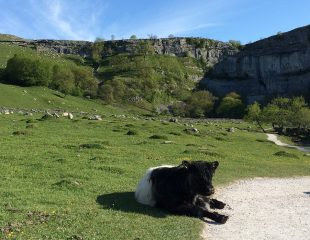 I wanted to share some developments and thinking from the Livestock Information Programme, following on from my blog last month – creating a digital Defra part 2.
Livestock Information is about enabling trade through customer confidence in a traceable food chain, and protecting human health by preventing contaminants from entering the food chain. Defra's Livestock Information services do this today by identifying and tracking animals (cattle, sheep, pigs, goats and horses from next year), where they are, where they have been and who owns them. Amongst other things, this enables us to respond to the event of a disease outbreak.
The Livestock Information programme started out as a technology refresh initiative - the primary purpose is to reduce the cost of the service by introducing more modern technology. We've done a lot of work over the last nine months to make sure that our approach is truly outcome and user focussed, and this learning has refined our thinking a lot. Brexit has added a new dimension where trade outcomes are much more important, and this has added drivers to the digital agenda. Our learning has revealed an opportunity much, much bigger than just reducing the cost of IT. Here's why.
User needs
We've learned a lot about our users. Early in this programme we focussed on farmers, markets and abattoirs as active users of our systems and services. But in reality, the user group is wider and more fundamentally important than that. We have learned that the Animal and Plant Health Agency (APHA) is the primary user of data internally, because they depend on data from livestock information systems to manage the threat and reality of animal diseases, and their trade team uses the information to secure trade deals. But historically they have not informed what data is collected, how it is collected or how it is made available to them and as a result we know that there are weaknesses in our collective ability to deliver those outcomes. We have learned that the meat processing sector uses livestock information (currently derived from manual sources) to inspire customer confidence which is fundamental to trade, but it does so manually comparing paper records and says that we are being overtaken by other more progressive traceability systems elsewhere. More widely, international trading partners are users of the information, in that they are more likely to trade with countries that have world class traceability systems than those that do not.
This understanding has helped us to engage with a broad spectrum of users extensively over the last few months in particular. This has been difficult because the industry is fragmented and naturally suspicious of itself and of government intervention. However, we've been open in our approach, careful to listen, confident in being willing to think differently and holistically and overt about trying to find win-win solutions. In return, industry has given us some clear direction. They have told us that they want to remove paper from the system entirely. They have told us that they want real time information and access to data that they can integrate with how they run their businesses. They have told us that by taking a more integrated approach they can perform better and take more responsibility for managing the threat of animal disease. They have told us where they want us to relax some controls, and what they will do instead to deliver the required outcomes. To date, our engagement has been based on conversations and meetings with separate groups and panels, but we are running a workshop on 19 December 2016 with more than forty leaders from across the industry where we aim to define the industry vision for how they want livestock information services to work and what their role in that should be. There is a genuine sense of positivity from industry about this opportunity for them to help to shape our thinking and as a result we are having really productive engagement.
Outcomes and policy
Trade drivers for Livestock Information have greatly increased since the referendum vote to leave the EU. Previously, adhering to EU Regulations largely gave the UK access to the trade markets that it needed. Now, with the likelihood of needing to compete on the global stage we need to make sure that our traceability systems are up to scratch. Fundamentally, this is about having really good and real time visibility and control throughout the food chain, from farm to fork. This can be achieved through a digital approach where government and industry are actively joined up and working towards the same goal. However, this also needs to be enabled by some progressive policy decisions that will probably require legislative change, something that could be enabled by but also slowed down by Brexit.
Our user and user and outcome focussed approach has enabled us to stand back and test whether our previous approach of doing the minimum to meet EU Regulations is the most effective way to deliver. In reality, we now think that there are opportunities to make things simpler for users and for Defra by thinking in a more joined up way and in some ways exceeding requirements. For example, EU regulations require a separate holding register to be kept on farm (not accessed by Defra), as well as notifying Defra of key events such as movements from holding to holding. In reality, this means that customers often need to keep two systems, and also nobody benefits from the insight that could be derived from a national holding register.
There is an EU driver to implement electronic tags for cattle by 2019. Our understanding of both policy and user needs has helped us to understand that implementing the EID solution is the right thing for us to do, and that we must focus on delivering it in a way that genuinely leads to benefits. We now think that bovine EID is not 'another thing to be done' and instead is a central part of our strategic for delivering a more progressive end to end solution.
Organisation
We have learned that no one person or organisation is responsible for Livestock Information in the Defra group. Defra policy not only develop policy, but they also handle customer queries and are the intelligent client for pig, sheep and goat services that are outsourced to two separate third party companies. The Rural Payments Agency (RPA) delivers the cattle service, and APHA are responsible for delivering the outcomes of protecting animal and human health and enabling trade. This model means that there is no concept of end to end service, no real sense of the extent to which services actually deliver outcomes and missed opportunities in terms of efficiency and user experience. Data is not openly shared across the group, though there are solutions in place for specific needs. The Defra group Target Operating Model helps to some extent, but more work is required to create a genuine service approach to traceability.
The traceability marketplace
We have learned a lot about how other countries implement traceability systems. For example, we know that the Australian and Irish (both sides of the border) governments require a real-time knowledge of cattle movements and history, enabling point of trade controls to manage disease and contamination risk and making sure that producers operate in line with agreed standards. We also know that there are at least three traceability systems and services available in the UK which could be bought and configured instead of us building our own solution internally. We also know that industry is keen to work with Defra to implement a solution that is seen as something that can be trusted by industry, and also something that can be used to deliver more outcomes for them. This has helped us to develop implementation options that we did not consider at the start of this process.
Our current thinking
It is clear to us that we have an opportunity to enable Defra and industry to make significant savings whilst improving the customer experience. We think that we can do this in a way that can keep the UK at the forefront of traceability and confidence in the food chain, and also enable farm productivity. By fully embracing and taking advantage of digital and data and thinking holistically about an end to end service and not being constrained by organisational boundaries, we think that we can make savings that far outweigh initial estimates as well as deliver more non-financial benefits. And if we move quickly and decisively, we think that we can do that over the next 24 months.