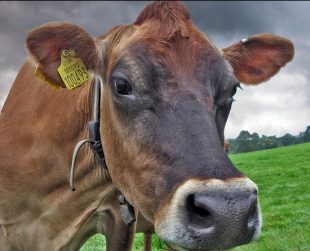 I recently went to an Agriculture and Horticulture Development Board (AHDB) meeting at the NFU Conference Centre in Stoneleigh with farmers, auctioneers and meat processors to discuss the Cattle Industry Data Exchange Project.
I had a brilliant day and I thought that I would share some of my experiences from this because there is a lot for us to learn and to take heart from.
The Cattle Industry Data Exchange project is a feasibility study being driven by the livestock sector (part funded by Defra). Its purpose is to identify how sharing and using data across the industry could help productivity, trade and animal health by enabling 'risk based trading'. This means that when somebody wants to buy an animal (live or dead), they can see its provenance, movements, ownership, health status, link to farm assurance schemes and so on. This is important stuff. As a dairy farmer, it means that you could confidently buy cattle from TB free herds. For the food sector, it gives easy access to information about ownership and assurance schemes, making administration of the food chain much simpler, faster and more transparent, thus building customer confidence and ultimately securing better prices. So, some take home messages from me that I thought that I'd share:
Benefits beyond Defra
Firstly, Defra collects and holds basic data that is the foundation of any data sharing in the livestock sector through its identification and tracking services for cattle, sheep, goats and pigs. The Rural Payments Agency has shared a cut of the cattle data, but we need to work out ways of reliably sharing this data in real time, to enable trading at markets and so on. The insight that we have has application far beyond our uses, and there would be real benefit in us sharing more widely, and more effectively.
A desire for data transformation
Secondly, there is a massive hunger in the industry to have access to reliable data, and they are ready to play their part in making sure that data is accurate and up to date. In particular, market drivers are powerful and emphasised by Brexit. John Dracup who was representing the British Meat Processing Association made some particularly powerful points. He emphasised to the group that British beef commands the highest beef prices in the world today, and has for some time. That price is based on high quality, a transparent food chain and high food safety standards that all underpin customer confidence.
In addition, John emphasised that the UK processing sector still carries scars from previous food scares, and so need to be proactive in terms of maintaining the confidence that has been built. John was clear that current systems in the livestock sector are clunky and unwieldy. He gave examples of the myriad of different systems that make it hard to give a single picture to customers. He talked about paper based systems, with multiple documents for movements, food chain information and so on. He said that whilst is it possible to gain lifetime assurance, doing this is difficult and expensive. He emphasised increasing requirements from the market place to provide DNA testing as part of traceability, and to provide information on antimicrobial treatments.
He made clear that the processing sector wants (and he emphasised that he was empowered to talk on behalf of that sector) to go entirely electronic as quickly as possible, removing all paper.
He wants to be in a better position to demonstrate to customers complete transparency and traceability, using that to build confidence with the British brand. To do that, the processing sector needs better information that includes lifetime history and relationship with assurance schemes, available in real time and able to adapt constantly to the demanding world of retail and consumer markets.
Digital by default working
A representative from the livestock auctioneers reiterated that they fully support a move to more digital ways of working, and that as a country we are being left behind by others. He said that promises of government money for this reform have collapsed previously, and that the industry really needs to step up and make the change happen. He said that they need quality information that works in real time, citing examples of markets selling 10k-12k cattle per day, most of which turn up on the day with no pre-notification. He said that current data quality from Defra systems was poor and needs to be improved, recognising that this was a farmer issue rather than a Defra one. He said that markets support a data hub and move to digital systems completely, and see the opportunity as exciting and progressive. The farmers in the room supported all of this and were clear that better data and join up will enable them to make better decisions and welcome the confidence that transparency will give to customers.
The future is here
Thirdly, there are examples close to home where sharing of information and digital systems already add value. Stephen Morris from Agri-Food Northern Ireland, an NDPB in Northern Ireland that carries out similar functions to the AHDB, demonstrated existing capability linking state-owned data with industry and sector information to provide real time pictures of performance against market expectation (e.g. carcass confirmation, fat class etc). This benchmarking has led to measurable performance improvements of 5–10% against market requirements since 2012 - an improvement that is worth some £90k/annum to your average suckler cow producer in that part of the world. The systems are there, being used, and proved to be effective. Customer feedback shows that 100% (yes 100%!!) of users say that the data is beneficial or very beneficial for the way that they run their businesses.
The Brexit opportunity
Fourthly, it is clear that Brexit offers everybody the opportunity to think differently about how the industry works, but whatever your perspective, it is clear that market forces and customer confidence are king. It's equally clear that the industry needs to respond quickly and proactively to position itself favourably for the changes to come.
Introducing the Livestock Information Programme
There is a very clear link to all of this and the livestock information work that we are now undertaking in Defra, and that I am leading as part of the digital transformation programme.
There are many IT systems associated with livestock information, some of which are very old (green screen — I kid you not), and others more recent. Services operate distinctly for different species, and there is no single way of accessing, using or supplying data. Given that this information is used to help manage the threat of animal disease and to enable trade, there is definitely room for improvement. It's not all about systems though as the insight above demonstrates. There is an opportunity for all of us to think differently. From Defra policy outcomes through to how Defra and the industry works and uses data, we all have a part to play in helping shape how an important part of the UK's agricultural sector embraces change and digital ways of working.
As Stuart Hall, the programme manager for the Cattle Industry Data Exchange project said on the day the technology is the easy bit. There are much tougher challenges.
The first is just building a real understanding of the data. What is available, to whom and how. This is no easy feat.
Then secondly and most importantly of all there is the challenge of making the case for this digital-first, data-rich approach to the sceptics out there. The sheep farmer on the uplands with more than enough to do already and who might see this as change for changes sake.
To make good on this ambitious vision we will need to engage broadly, be smart in our tactics and keep taking small, iterative steps towards the big goal.
It might not be easy but it is absolutely worthwhile.