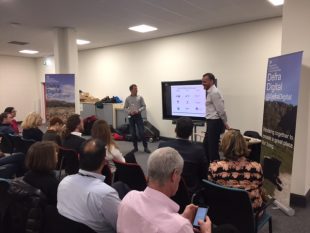 On Friday 13 January, field vets, Digital, Data and Technology Services (DDTS) and Defra group digital technology teams came together to see the latest technology ideas to help people working in operations across the Defra group. The event followed visits to a plant nursery, hunt kennels and a chicken farm egg inspection on Thursday 12 January to see the challenges of technology in the field at first hand.
Defra's Chief Operating Officer Betsy Bassis opened the event and she highlighted how important it is to improve the poor technology our people have to use so we can better serve our customers. She mentioned her own experience visiting a farm last year, and how the visits the day before had reinforced the message.
What does this mean for Defra group?
Here are just some of the benefits:
No paper and clipboards
Elimination of double/triple entry of data from forms
Consistent format of data for everyone to use
More efficient resource planning and task allocation – helping to manage staff better.
There was a Field Service Management tool demo
The Field Service Management tool is an online resourcing tool that manages tasks for operations and allocating jobs to field staff. It works by looking at what tasks are available, checks calendars, location and nearest people, and then allocates work to the person best suitable for the job.
What does it mean for our customers?
Our services should improve customer service by making it easier for people to do business with us. The aim is to have a 24/7 Field Service Management System in place by mid-2018.
Embracing digital and data in the field
During the afternoon, the project team asked people to get into groups to look at issues and possible solutions followed by pitches on what innovative changes we could make. John Seglias (Defra Chief Technology Officer) Kirsty Shaw (APHA Director of Service Delivery) and Betsy Bassis (Defra Chief Operating Officer) got together to discuss the ideas and pick one to take forward.
There was a clear idea from two of the pitches – field staff really want hands free, voice activated system that they can use to record details quickly in the field without having to duplicate work back in the office. The project team will be taking this away to look at in more detail and look for possible solutions that may work.