Like many other government organisations, we have embraced the Service Manual, and we're increasingly putting service design thinking and agile working methods at the heart of our approach to delivery. It's change, and change for the better.
We've delivered some great user-centred digital services and products. For example, the flood risk information service has been updated from this: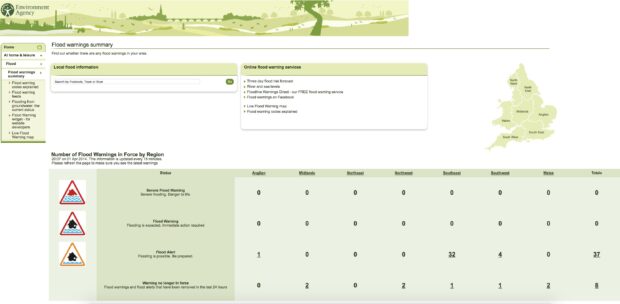 to something developed and iterated in an agile way, putting user needs first: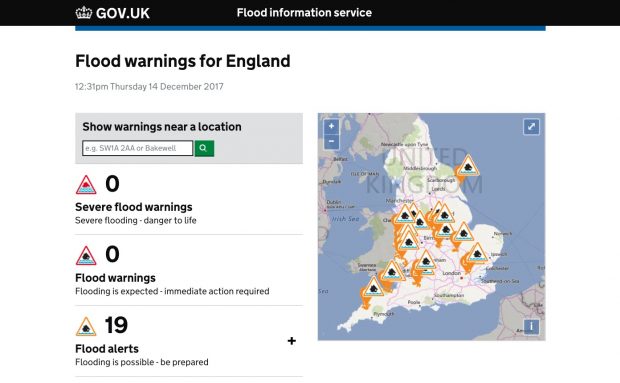 As our delivery culture matures and we get better at reflecting and learning, there are unexpected side benefits. We want to deliver better services for users, and we want to get better at how we do it.
As a consequence, one of the side benefits we're seeing is increased interest and commitment to platforms.
Re-thinking platform delivery
Platforms offer huge potential to help us deliver digital services quickly and efficiently - they are useful tools that service teams can use during the service design process.
To really understand the benefit of platforms, look at a couple of cross-government platforms created by the Government Digital Service: GOV.UK Notify and GOV.UK Pay. The former makes it easier for government service teams to send emails and text messages to users. The latter makes it easier for those teams to take payments from users, and issue refunds when necessary.
In both cases, the platforms are designed for re-use. In the past, teams in different government departments were repeating and duplicating the same work over and over again; now, a single improvement made to one of those platforms is automatically made available to all the services using it. Government saves time and money. We get more done for less.
We're starting to apply the same thinking within Defra. What platforms could we build that would be useful for many different teams, removing duplication and saving time?
Iterating our thinking
Work on platforms within Defra has been underway for a while now, but take-up among service design teams was low. Why? Because the platforms we were building weren't meeting the service teams' needs.
So we're changing our approach. In this case, meeting user needs means meeting the needs of those service teams.
We're now adopting product management practices, and treating our internal platforms with the same respect that we give to to our citizen-facing services.
In practical terms, that means:
doing more user research with members of service teams
funding dedicated product teams with capabilities typically found in a digital service team
granting those teams permission and freedom to deliver and iterate
publishing and promoting product roadmaps
continuously improving our platforms, based on what our users and our performance metrics are telling us
The language we use is important
I think we've had a problem with language and communication.
We spent a long time focusing our attention on senior leaders who decide how the money gets spent. Those people are important, but the service teams who we expect to be users of our platforms are equally important. We didn't focus enough attention on talking to them.
Platforms have always been seen in Defra as being things that require big upfront design and waterfall-based delivery. Now we're pivoting to build them more like products. To me, that's evidence of a growing maturity of digital thinking within Defra. More change, and more change for the better.