With the next Silicon Milk Roundabout job fair fast approaching, Helen Eden, Defra Digital Delivery Manager, reflects on her experience of attending the Women of Silicon Roundabout event earlier this year.
In June 2018, several government departments including Defra, teamed up with the Government Digital Service (GDS) to undertake a joint recruitment drive at the London tech job fair Women of Silicon Roundabout at Excel in London.
The June 2018 event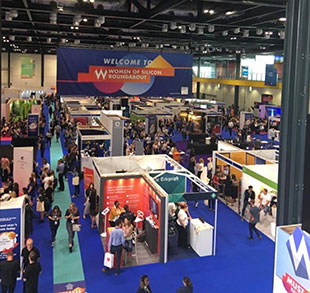 The event provided a fantastic opportunity for Defra to rub shoulders with 4000 tech leaders and professionals, at what is the UK's vibrant centrepiece for women in technology.
I was honoured to be representing Defra on a cross-government stand with a host of other outstanding female ambassadors, from the Government Digital Service, Department of Work and Pensions and, the Ministry of Justice.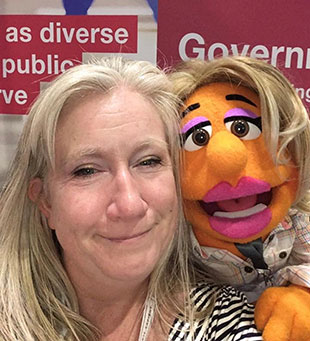 Our Defra contigent comprised of: Cathy Dutton, User Centred Designer, Clare Loveday, User Experience Researcher, Christina Gyles, Interaction Designer and myself – and through the powers of digital technology, we were remotely supported by Myra Hunt & Harriet Green, our joint Chief Digital Officers.
During the event some of the best speakers in the industry suggested how to enhance our skills portfolio and celebrate gender diversity, in what is the world's fastest growing industry.
The importance of female role models and how to accelerate our careers, was a strong theme for the event. So too was the need for attracting and retaining top talent, digital transformation, building successful teams and changing a company culture. All topics close to our hearts.
We collectively also used the event as a platform to highlight the importance of diversity and inclusiveness in our government departments, as well as promoting strong encouraging messages around recruitment.
'Government is hiring' stand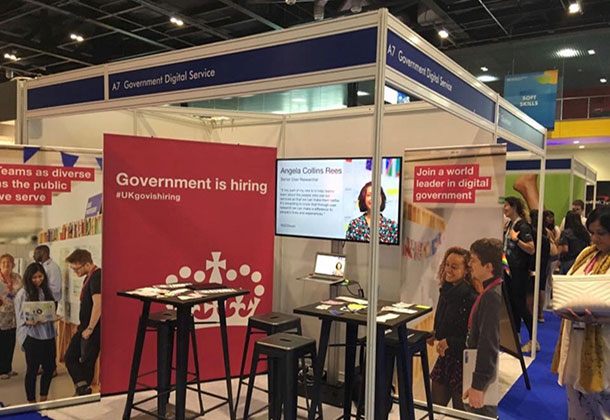 It was a great experience sharing the 'Government is hiring' stand.
I particularly enjoyed the fact that it provided me with a fantastic opportunity to spend time with a cross-section of talented digital female colleagues from across Government.
It enabled me to learn more about each of their working environments, and gave us all the opportunity to reflect on the similarities and differences of our working lives.
Working for Defra Digital
I have a great team at Defra Digital – every day we help to make people's lives easier, by developing innovative digital solutions that improve everyday problems. Explaining this to potential recruits reinforced the pride I take in my job and also in the work of Defra as a whole.
It was also inspiring to talk to such a diverse range of people who were all very keen to make a difference.
Silicon event in November 2018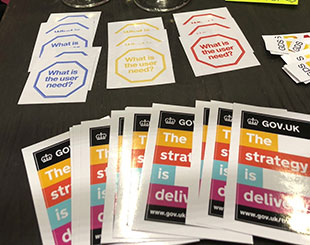 We are now gearing up for the next Silicon Milk Roundabout job fair which will return to London on 24 and 25 November.
Once again, we will be teaming up with GDS and other government departments to join forces and promote the varied, interesting and positively challenging work that we all do.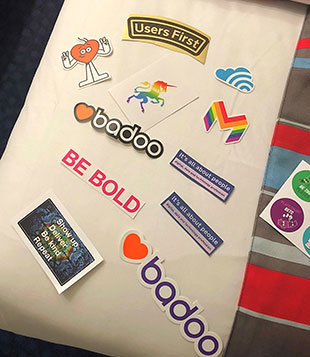 We will also be highlighting the various upcoming recruitment campaigns that we are individually likely to undertake in the coming months.
I would really recommend that potential recruits take advantage of the opportunity to come and meet Defra Digital and our other cross-government colleagues at the 'Government is hiring' stand 106/107. The event is free to attend, with ticket applications available on-line.
The focus of the event is split across the two days, with the Saturday oriented more towards product managers, project managers, designers and marketers, and the Sunday towards developers and data scientists.
In the meantime, find out more about working for Defra digital from those that already do.
Follow @DefraDigital on twitter to keep up to date with our career opportunities. #UKgovishiring #SMRnov18