Ever needed to send some 'sheepskin to China', how about 'horses to Argentina' or even some 'greasy wool to Chile'. Perhaps not, but for some companies these niche exports are their core business, and it's big business.
Exports of animals and animal products contribute over £5bn to our economy each year, and to help protect animal and public health across international borders, each consignment requires an export health certificate (EHC) prior to its departure.
Getting businesses ready for Brexit
The previous application process for certificates to countries outside the EU (third countries) was tricky to navigate. If similar arrangements had been needed in the event the UK left without a deal, then the service would have creaked under the increased demand.
So, last year Defra sought to improve the current service for third countries as well as reduce the potential impact of a no-deal Brexit. As part of the response, our team launched a simple but effective service to allow exporters to search and download over 1,600 export health certificates from GOV.UK. The tool was configured for exporters with the help of the Government Digital Service (GDS).
Together the Defra and GDS product teams configured and launched a new tool for UK exporters in weeks, not months.
In the run-up to each potential no-deal deadline, the service was updated to hold a further 100+ new health certificates for commodities to export to the EU, should they be needed. The service is now kept up to date by business users with around ten amendments every week as rules across the 1,800+ certificates change.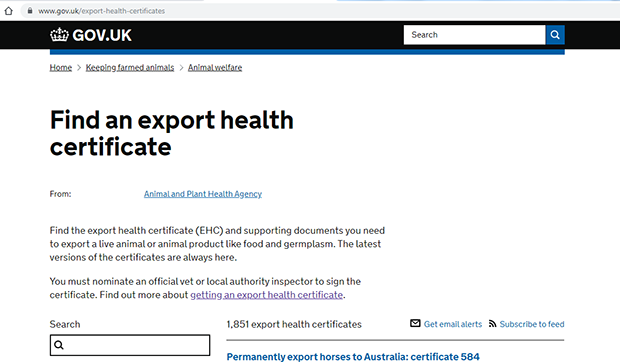 The 'Find an export health certificate' service met our exporters basic need to access, download and apply for certificates. This was a key Brexit readiness milestone and was delivered four months ahead of the initial Brexit deadline.
During its first year the 'Find an export health certificate' service had over ½ million visits and led to over 140,000 applications being made.
Getting out early
Getting a simple version of your service out early can be tricky in government; as we try to balance our instincts to provide quality public facing services with our need to engage early with our users, and to learn and iterate the product in plain sight.
Launching a simple content-based tool has helped our team understand more about how users within each commodity group need to interact with the service. It also meant we had one year of using analytics to help inform the development of the enhanced digital service. Having an early live service was an important step. It allowed us time to work through the more complex aspects of our delivery, whilst still giving value to our users.
It was refreshing to hear from export industry groups that they (like us) supported the concept of starting small and seeing improvements over time, rather than waiting years for a large-scale government IT programme to deliver (or not!).
Where's the plan?
Our delivery team was part of the Defra EU Exit Programme working closely with Defra policy colleagues and operational teams from the Animal and Plant Health Agency (APHA). The breadth of this wider team increased the number of organisational boundaries and interested parties that we needed to entertain and keep informed. The heightened governance and engagement were both a challenge and a blessing.
On the one hand, it meant we had another group of colleagues who wanted daily updates against milestones, and who were new to the world of adapt and learn. It was sometimes tricky to show our iterative development within 'the plan' they need to craft and share with ministers.
However, it also meant we had another group of talented colleagues to share this historic experience with. Regular and authentic conversations were the cornerstone. Whether it was daily stand-up calls across the teams, or simply building strong enough 1–1 relationships; where you can pick up the phone when things are going astray. Progress was only made when we got the collaboration right across operations, policy, project and digital delivery teams; all working closely and genuinely understanding each others pressures and priorities.
Challenges we faced
At the outset of our alpha phase, one of the key hurdles we needed to overcome was the sheer scale of content, and the frequency with which it needed to change, in line with regulations and trade negotiations. We needed to create something sustainable and flexible; a tool that would allow business users to create and configure on-line applications using GOV.UK compliant content.
The product development was complex; involving the content component as well as the integration of our application data into a new tracking tool. We also worked tirelessly to create the pixel perfect .pdf certificates that are still required to travel with the consignments to 223 destinations around the world.
The user research and user experience challenge was immense; with each country and commodity combination having a unique certificate and potentially requiring a different set of questions, processes and user needs.
Mind blowing.
Tough at times
So working through these complexities and development challenges, whilst also subject to the increased lens and scrutiny that comes from being a Brexit project, was probably the hardest, but most rewarding things I have done as a civil servant in my 20 years within the Defra family.
Working at this scale and pace was only possible by having an amazingly talented, diverse and resilient team. Each of us leaving our badges, as well as our egos, at the door.
Everyone on the 60 strong team pulling together; bringing their skills and their pragmatism to help build this thing for our users. But it was not always easy or clean; there were lots of crunchy conversations across and within the teams, as well as with our leaders and stakeholders. We were faced with (what we had to consider to be) a fixed deadline and a somewhat fixed scope, which jarred with our need to work within an agile, user first environment.
Looking for sweet spot?
'We are where we are'. Probably the most over used words in project delivery. Well we had 'This is where our desires and circumstances meet'. These words from our Delivery Manager in the early days stayed with me throughout. I think when I started this role, I was looking to find a sweet spot. The mediator (and people pleaser) in me hoped I'd find a way of working where I could keep everyone 'happy' most of the time. But I'm not sure perfect harmony exists in digital delivery, and if it did, would I want it or trust it now?
Instead we continued to work together as a team, in the open; cultivating (and coping with) a thriving, passionate and healthy tension, to create the best path forward for our project. Pragmatism and compromise where the words that have defined this delivery. At our most difficult times it didn't always feel comfortable. It was important to be clear about the compromises we were making, including the risk of re-work we were taking on board. Those uncomfortable conversations allowed us to make difficult, but informed choices that helped us move on.
No-one wins until we all win; engineers, product, UR/UX, project, operations, all making compromises on their preferred approaches to agree on what could work best here.
All I can say is that we made it. In the end, every difficult conversation, every compromise got us to this place, and I think we have a better service for exporters because of it. I often hear myself saying that I could never ask a team to work as hard as they did; this was nearly a 24/7 operation during our busy times. This delivery came from them as individuals all coming together; with passion, commitment and a shared understanding of what we are here to do. We knew our why.
I struggle to adequately convey my gratitude and I am humbled to have been able to lead this team.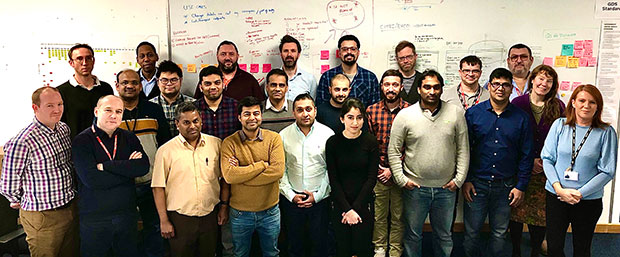 Love the learning
So, with all that in mind. I am beyond proud to say that in mid November, just one week before the 1st anniversary of the initial 'Find an export health certificate' service, we started a private beta phase for our extended digital service. The enhanced service meant that exporters could now apply online, share applications with their certifiers, use dashboard features to complete quicker 'cloned' applications and view their specimen export certificates. We invited a small number of users to make live export applications so we can learn how our service supports their needs, whilst they run their own busy export businesses.
Some of us were glued to Google Analytics waiting for our first user to pop in.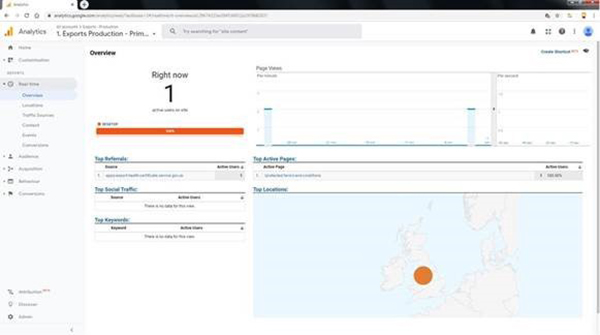 Some of the team were with K&L Freight (our first exporter users), seeing them use the service first time unaided.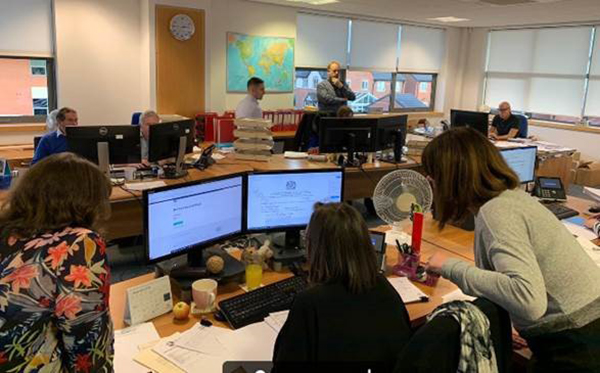 I love this little aqua box.
After months of early product demonstrations, praying that this little box would appear, I still hold my breath every time we press submit. It is super reliable and fast now, but it wasn't always the way.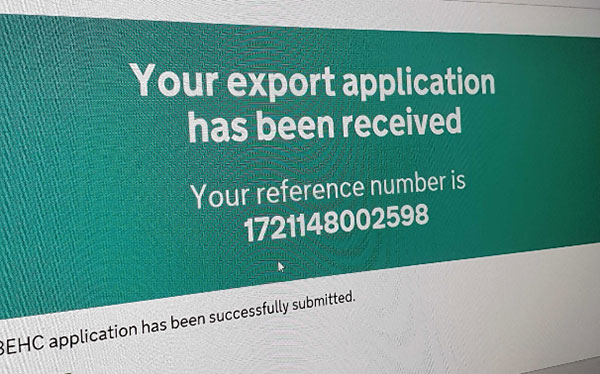 This is the very first EHC digital application that Joanne (the exporter) could see in her dashboard after she had clicked submit.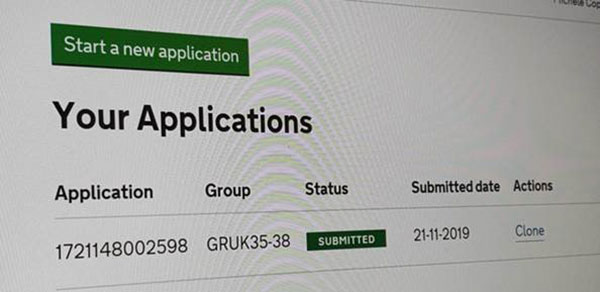 We could see the application submission from Joanne, come into the caseworker solution. It was picked up by Nicky (the caseworker) from APHA at the Centre for International Trade and dispatched by post 10 minutes later.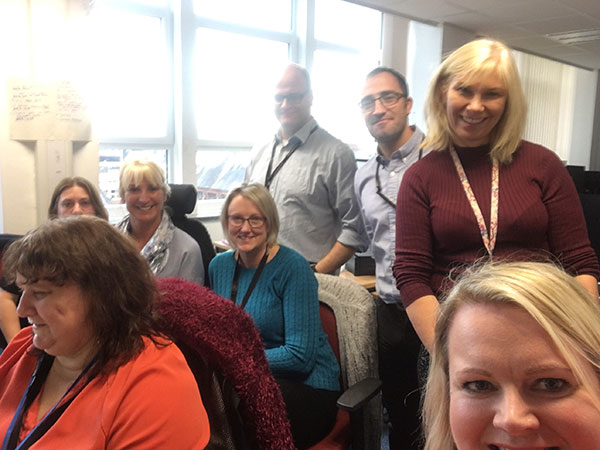 The first digitally applied for Export Health Certificate, which has now arrived safely with its consignment in China.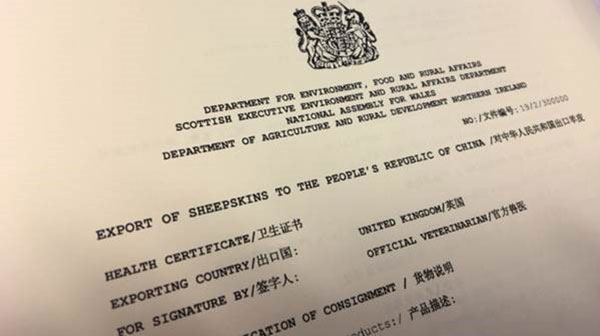 So how's it going?
So far, so good. It's still early days in our private beta, and we continue to learn. We've had our first business users in our service for three months, adding small groups of users and commodities each week. We have applications being made every day and we are collecting feedback on how we can improve. We are releasing small enhancements and fixes every two weeks, so our users get to see the service improve regularly, in line with their needs. We recently helped some new users from Leeds export pizzas using a 'dairy products to Australia' certificate as well as working with some users from Anglesey who wanted to export some 'fish products to China'.
Get involved
Throughout February and March we are continuing to extend invitations to exporters to our private beta, as we grow in our confidence and understanding of how we can meet their needs. So if you know any businesses who need to send some 'sheepskins to China', 'dairy to Australia' or 'fish to China' please get in touch, we'd love to hear from you. Or if you are interested in talking to the team about the products we've built or our delivery challenges, again please get in touch (exports@apha.gov.uk).
It has been a real privilege for me to see the team, who have worked tirelessly for this, finally get to see the service doing its thing. We even had cake.