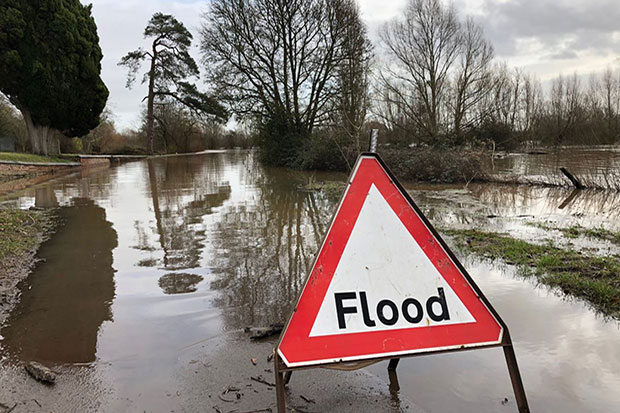 Surface water flooding, when drainage systems cannot cope with the amount of rainfall, is potentially a big problem: more than 3 million properties in England are at risk.
The Environment Agency identified its Long Term Flood Risk Information service (LTFRI) as a way of improving how we tell people about the risk of surface water flooding – from awareness to understanding, through to knowing what to do and who to contact.
Risky business
I and other members of the LTFRI team started by analysing feedback on the service since it went into public beta (a kind of trial phase) in 2016. People said they:
were frustrated with the postcode function – a lot of them couldn't find their property
disagreed with the risk of their property flooding that LTFRI gave them
To start with, we identified that the postcode problem came from using an older, clunkier design pattern (a chunk of code for building digital services) for selecting addresses. We judged that the Government Digital Service's newer 'address' pattern, based on lots of user experience, should reduce these sorts of complaints.
But we didn't understand why people disagreed with the flooding risk levels LTFRI was coming up with – so, in this case, research was vital.
Doing that research, we discovered that people were disputing their risk level for several reasons. They told us that:
they had never flooded before – so why were we saying they were at risk?
their insurance premium had gone up because of the LTFRI risk level
potential house buyers had been put off by the LTFRI risk rating
they weren't close to a source of water – so how could they be at risk of flooding?
they just didn't understand generally why they were at risk
Frustration
It turned out the existing service did explain all these things – just not where users could find it! After asking users for a property number and postcode, LTFRI only told them whether they were at risk or not.
The service didn't tell them how great the risk was nor why they were at risk, just 'there's a risk'. Then it told them what they could do in response to that risk. But to find out their level of risk and what it meant, users had to set off on a winding digital 'journey'. We observed people getting lost within the service, leading to frustration and their contesting the risk results.
We used this evidence to design a new user journey with the GOV.UK prototyping kit. We wanted to create a more logical route through the service, and part of that meant using more familiar design patterns that other GOV.UK services use.
After asking them their postcode, the service now tells users their level of risk and potential sources of flooding on one page. It was important that we explained different sources of flooding and how to manage them – it was one of the Environment Agency's goals to increase people's knowledge of how to deal with floods.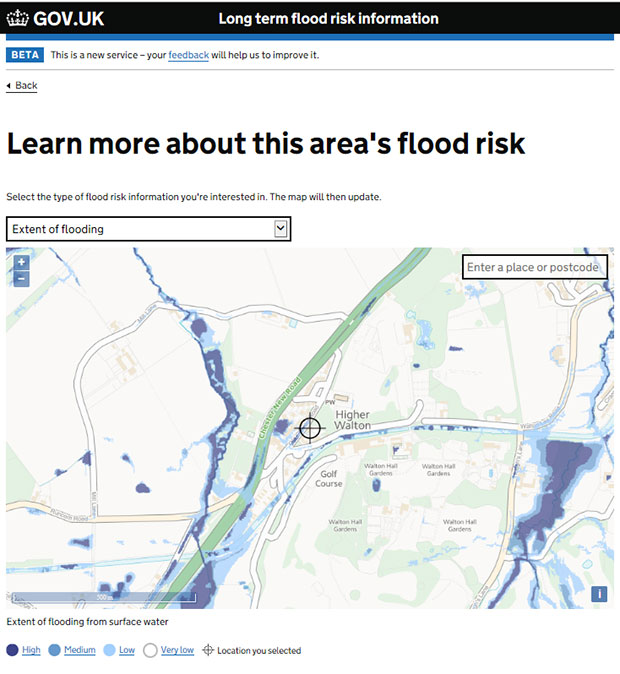 Information where you want it
We saw during our research that surface water flooding was widely misunderstood. We now explain it to users in language they're familiar with – lots of people know surface water flooding as 'flash flooding', so we make that association explicit in the service.
The new service also tells users who's responsible for managing surface water flooding risk – their Lead Local Flood Authority (LLFA). It tells them what LLFAs are and what kind of information they hold – and it tells users this at a point that it's likely to be useful to them, rather than buried at the bottom of a page the way the old service did.
The next step, another change from the existing journey, finds users at a page called 'Managing flood risk'. This is where we've curated content according to users' needs we identified in research.
Because of that research, we know that people use the long-term flood risk service to:
prepare for flooding
protect their properties
find out about insurance and moving house
We've now brought all that content together in one place, whereas before it was widely dispersed across the service. During testing, users told us they would use this 'summary' page as a resource to go back to. We've made this an index page, which means that people can find it without having to use the service.
Next steps
We released the new service in mid-January and we're monitoring feedback and data to see how it's working. We've got some features in our backlog that we think might improve things further, such as sharing information over social media and direct links to LLFAs.
We're also considering a feature where Environment Agency staff can let people know about factors affecting their local flood risk when they're happening, rather than having to wait for the current quarterly updates.
We're expecting to see less negative feedback about postcode issues and flood risk with the new service. We think it's a genuine improvement in helping people to understand issues that can be crucially important: what surface water flooding is, what flood risk means and where to find out more about local flooding.