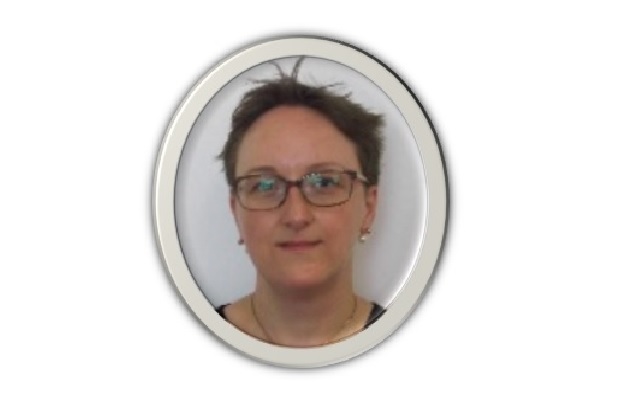 On Samaritans Awareness Day, Domain Lead Ulrike Hartmann-Cadey shares her experiences of volunteering for the Samaritans, and how she has discovered that active listening can really help those who are struggling in some way.
What's special about 24th July? Well, it's Samaritans Awareness Day, part of their annual 'Talk to Us' campaign, when the organisation reminds people that they are available to listen to anyone who is struggling to cope – day or night, 24 hours a day, seven days a week.
All Samaritans volunteers are trained in active listening techniques and their SHUSH listening tips can help us all become better listeners.
I volunteered for Bristol Samaritans for a number of years as a listening volunteer, shift lead and mentor for new volunteers, something I very reluctantly put on hold when my daughter was little and will hopefully re-start soon.
How I got started with the Samaritans
I started my volunteering when I worked at the Department for Work and Pensions (DWP). As civil servants we get volunteering days, but at DWP we tended to use those days collectively to support local charities, which was not only a good thing to do, but also great fun.
As Samaritans need volunteers 24/7 on 365 days a year, I kept my volunteering entirely separate from my work commitments, though that was more by accident than design.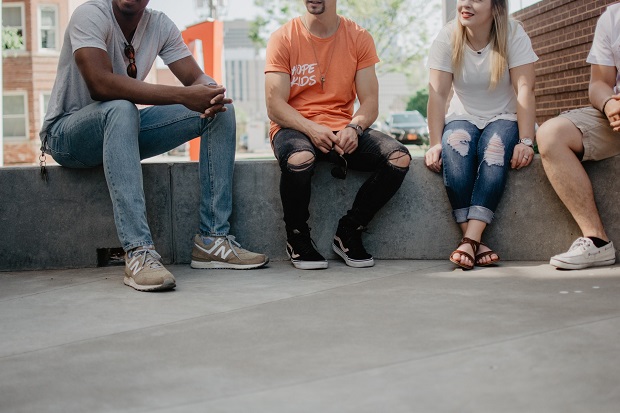 I would often lead shifts in the evening, done entirely from home at the time. I would speak to volunteers at the beginning and at the end of their shift and was available throughout if they had questions or needed to debrief after a difficult call. I would do my own shifts at the weekend and whenever I mentored a new volunteer, we would find a pattern to suit us both.
Anyone can suddenly find themselves in crisis – it's easier than you think
It's really important not to judge people. The one thing I learned during my hours on the phone, often in the middle of the night, is that most of us could quite easily find ourselves in a crisis at some point.
Not everybody who contacts the Samaritans is feeling actively suicidal: many are struggling with their mental health and are often without adequate support. Many are physically unwell or in pain; some callers are worried about their finances, benefits, or housing, some are struggling with difficult relationships, domestic violence etc.
Other callers may be incredibly lonely and have nobody in their lives whom they could have a meaningful conversation with. These calls I found the hardest to deal with. It's more than likely that we will come across someone at work, or in our personal lives, who will fall into one of these categories.
I worked with an apprentice in a previous civil service role, who was going through a very difficult time, and struggled with substance abuse issues. She knew I volunteered for the Samaritans and asked for a chat as she was struggling.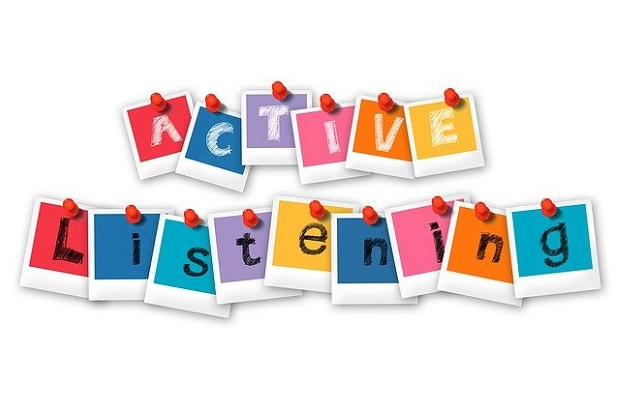 We ended up speaking regularly to just give her an opportunity to offload – she was very aware that I was not a trained counsellor or anything like that, but that I was used to listening to 'difficult' things and could be there for her.
Providing listening support is often complementary to professional and practical support and that was absolutely the case in this particular situation.
What you can do if you are concerned about someone
A colleague or a friend may seem distracted or withdrawn, may have made comments that suggest that everything is not quite right, or you just get a sense that something is bothering them.
Firstly, reach out. At the very least the other person will know that you care about them and are there to listen whenever they feel able and ready to talk. But what to do if they take you up on the offer?
Really listening is not as easy as it sounds. It's important to show you care; put your phone away, focus entirely on the other person, make eye contact and be present.
Don't talk about yourself – you may have had a similar experience of something might have worked for someone else in a similar situation; park that thought until a later date.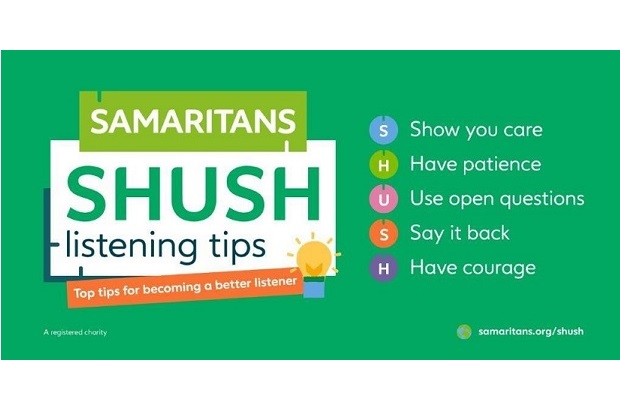 Top tips
Have patience –listening is hard; opening up and talking about what might be very complex or difficult emotions is even harder. Don't be tempted to fill the silence. Wait. Breathe. Be there for the other person. Sometimes just sitting in silence with a cup of tea can offer comfort and allow the other person to collect their thoughts.
Try to use open questions as much as possible to encourage your friend or colleague to talk freely. How? is always better than why? Give the other person an opportunity to elaborate, talk things through and think out loud.
Say it back – repeating key phrases or briefly summarising what the other person has told you can be useful to clarify your understanding but also to show them that you have listened and understood.
Have courage – if you think they might be suicidal, ask the question. Merely asking can be helpful because it gives permission to talk about feelings that are still often perceived as taboo. This is true for suicidal feelings but also self-harming or substance abuse.
Offering someone your time and a listening ear can make a huge difference – just remember to SHUSH!
Ulrike Hartmann-Cadey is a Domain Lead for Hosting in our Group Infrastructure and Operations Delivery Portfolio team.
Samaritans Awareness Day takes place on 24th July, part of their 'Talk to Us' campaign, and is the day when Samaritans branches in the UK hold local events to raise awareness that Samaritans are here to listen to anyone who's struggling to cope.
Find out what your local branch is doing for 'Talk to Us'.
Samaritans SHUSH listening tips can help you to actively listen to someone who needs a listening ear.