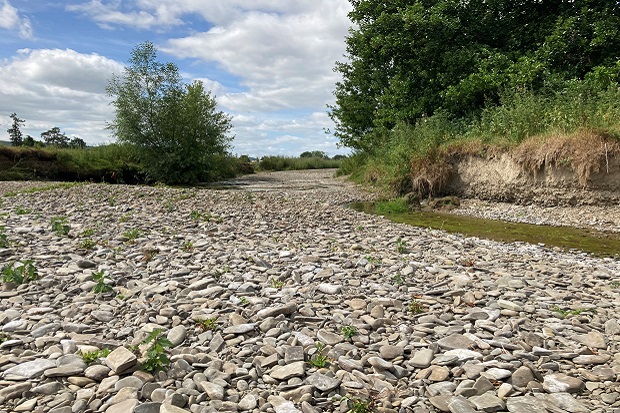 In World Water Week Mark Harvett, a digital product manager at the Environment Agency, tells us about the impacts of the driest period in nearly 50 years on our water resources and the role of email alerts in helping abstractors comply with conditions on their abstraction licences.
I wrote about the impacts of not preserving our most vital natural resource back in March. At the time of writing this latest post, we are in the second heatwave within a month, large areas of England moved into drought status, and we are suffering from one of the driest nine-month periods in nearly 50 years. We've all felt the heat and seen its impacts on our green (now mostly brown) and pleasant land.
Many rivers are suffering record low flows. Not only does this limit the ability of some businesses to take the water they need, but it also prevents people from enjoying the environment, and has serious consequences for wildlife.
The Environment Agency (EA) plays an important role in reducing the impact of prolonged dry weather. This includes carrying out fish rescues, managing some waterways for boaters and working closely with water companies and other abstractors to maintain supplies and protect the environment.
Helping abstractors to comply
In April, the EA began sending water abstraction e-alerts. These alerts help abstractors comply with conditions on their water abstraction licences which reduce or stop how much water they can take. These 'hands off' conditions protect low river flows (or groundwater levels) and the rights of other water users.
The new e-alerts allow the EA to respond more quicky to changing conditions, whether it is to restrict or re-start abstraction. This is increasingly important as climate change affects our weather patterns.
Between 1st April and 15th August, the EA sent 1000 water abstraction e-alerts (and 281 letters – which some licence holders prefer). They calculate that these alerts alone are potentially worth around £786k to the economy.
The water resources situation is expected to deteriorate over the summer, so the EA may not be able to lift some of the hands-off restrictions.
However, if short-lived rainstorms increase river flows above a certain threshold, albeit temporarily, the EA can send e-alerts to give abstractors access to the water they need. This can be particularly important for farmers who need to irrigate their crops.
Managing demand, identifying further improvements
The EA is also recruiting new staff to help phase-in e-alerts to every part of England over the next 12-18 months. These new staff will also help embed other planned digital improvements to the way the EA manages water resources.
One example is to increase the number of abstraction licence holders registered with the Water Resources Licensing Service (WRLS), which the EA use to send the e-alerts. WRLS allows abstraction licence holders to manage their licences online.
They can view their licence conditions, delegate access to their account and submit information about how much water they have taken.
This allows them to quickly check what their licence allows them to do and comply with the conditions. Licence holders can also give third parties access to view their licence conditions.
The creation of this service for water abstractors is a collaborative effort between the EA and colleagues from Defra's Digital, data and technology function. The teams have been worked on it, together, for four years so far.
The EA and Defra will continue to develop features to make it easier to apply for and manage abstraction licences, because access to water is vital to society and a wide range of people and businesses depend on it.
Stay tuned to find out more.
Mark Harvett is a digital product manager at the Environment Agency.
World Water Week, which takes place between 23rd August and 1st September 2022, aims to develop solutions to the planet's greatest water-related challenges, such as poverty, the climate crisis, and biodiversity loss.