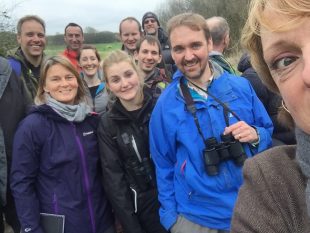 Last week we were delighted to host members of Defra's Digital Transformation Team to Shapwick Heath National Nature Reserve to explore how digital technology could to help deliver Natural England's conservation responsibilities.
Using technology on Shapwick Heath to enhance public engagement could be very beneficial – although possibly made slightly more of a struggle with the limited ability to find phone signal! The appeal of the reserve for many is its remoteness; a more natural landscape. The use of technology here would need to enrich the visitor experience, not detract from it. How might this happen? Well at Shapwick you might not always see, or hear, everything you would like to on a visit (we didn't hear any bitterns on our visit much to everyone's disappointment). However, technology could show visitors all the things that go on around them, which otherwise might be out of sight or earshot, without detracting from the wilder environment of the reserve.
For example, we discussed the idea that mobile technology could show visitors what was happening around them, inside the trees and under the ground beneath their feet. Your mobile device would be an x-ray scanner on the ground whilst walking along the Sweet Track, allowing you to see what the 6000 year old walkway would have looked like. It could also enable visitors to see the slightly more recent landscape of Shapwick Heath before it was transformed (an industrial site with little in the way of wildlife) and maybe to allow them to discover what the landscape could look like in the future. The added bonus is that it's digital and easily updateable so we don't have the issue of out of date information we have with many of our traditional interpretation panels.
A real strength of this approach would be changing the way we interact with our visitors. This technology could integrate feedback and survey questions, getting people's opinions, behaviours and feelings recorded in real time. By engaging visitors in this way we can really help foster a sense of ownership of the landscape and increasingly put people at the heart of what we do.
The use of technology on Shapwick Heath could also be of much help in other areas like monitoring the important wildlife that lives here. A lot of time and paper could be saved by completing monitoring on digital devices. We are currently developing an app called the Natural England Site Survey Tool which will allow field workers to enter the condition of a Site of Special Scientific Interest offline and automatically send data back to the office when the device connects to the internet again.
Back in the classroom we got a demonstration of the new Defra Field Service Management tool - where you can quickly and easily create forms to capture information while out and about. We are going to be trying this out soon to see if it can help with things like health and safety audits. The first steps along our digital transformation journey may be taken down a 6000 year old track - there wasn't much technology then!