This is the first of a series of blogposts – 'sprintnotes' – covering a two week sprint aiming to make better use of flood data.
Today we completed our first day of our two week journey with the Environment Agency's Flood and Coastal Risk Management team at the Capgemini Applied Innovation Exchange in Holborn.
The purpose of this collaboration is to test out a new way of working and see whether it can deliver outcomes in a short period – two weeks – in a 'sprint' format. We also want to experience what it's like to co-locate off-site and do some rapid solution development and trialling of tools to support this different way of working.
After hearing from our Defra Business Relationship Manager, about how the Flood and Coastal Risk Management team wanted to find a better way to use their data to answer ad hoc questions from within Defra group, the public, or media on flood risk, we decided it would be a great opportunity to make use of Capgemini's offer to use their collaboration space, methodology and resource at Applied Innovation Exchange to work together on the problem.
Arriving at the Applied Innovation Exchange in London, there was certainly a buzz about the place; lots of floor-to-ceiling touchscreens, whitewalls, touchdown areas and collaboration rooms. Only a year old, the Exchange is a dedicated space for organisations of all shapes and sizes to collaborate in an Agile way, so we were excited to have been invited to work here.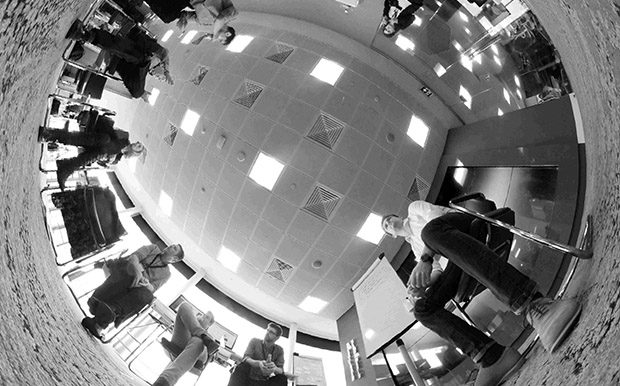 We kicked off the day with an introduction to the Applied Innovation Exchange and then went into an open discussion between the product owner, Mark Todd from the Flood and Coastal Risk Management team, his colleague Rebecca Kervell, members of the Defra Data Transformation team, and the developers – all facilitated by the Capgemini team.
So what were Mark's first impressions from Day 1? Over to you Mark...
We're here to try out new ways of working but also try and solve some business problems we've had for a while. I'm finding it really exciting because it's amazing how much we seem to be chatting about and looking through things so quickly already on Day 1. You can already see the value of us being co-located, I think particularly for these key stages because you can be involved and see all the discussions happening, especially when you've got all the right people together to have the discussions and ask the really hard questions – I think that's already been really useful.

In the Flood and Risk Management team, we have lots of data and it's hard for us to make sense of the data and get what they need out of it. Because it's so challenging we end up not getting the answers we need or presented in the way we need. It's been good to present that as a challenge and get questions back because you start to look at the problem differently. We've also been able to draw out some of those things quite quickly.

I do like this way of working, but I have to admit, I'm not a natural Post-It Note person. What I quite like is seeing everyone else's ideas and what they take from your comments, and seeing it come alive. You start to understand how other people see the same problem and you get different opinions coming through.

What's exciting is that we're seeing a picture building in front of our eyes – there's a lot of momentum - and I'm really enjoying that even after this morning we've achieved heaps of work, and the energy makes it feel quite exciting. I think normally with an all-day thing that by the afternoon you're thinking about getting the train home but the fact we've got these really energetic sessions coming up and get us even further along in such a short space of time, I'm really excited about it and what's in store for tomorrow."

— Mark Todd Flood and Coastal Risk, Environment Agency
The remainder of the day we spent running through what good looks like by doing an external scan of other organisations who display data online - interactive or not, so the likes of Information is Beautiful, TfL, Government Digital Service and so on.
Tomorrow is another busy day, with a rapid Ideation session, User research field interviews and Storyboarding. We'll be reporting back here in 24 hours.