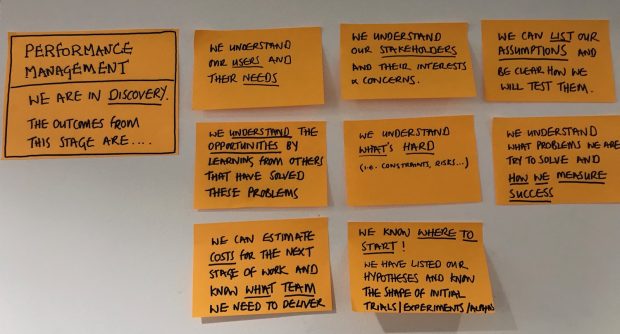 This is a post about how Defra is using user centred design and agile delivery practices to rethink its performance management arrangements. Agile is still quite new in government, but it's more common in software delivery teams - it's not been used much to change HR policy and procedures, certainly not in Defra.
Our COO Betsy Bassis doesn't want staff to battle the system just to get their day to day jobs done.  She's encouraged us to apply the same agile, user-centred approaches we use for delivering better services for citizens to our own internal ways of working. This is an important part of becoming a modern organisation.
Our team has been looking at something called Performance Management Reporting (PMR).  It's the framework for setting yearly objectives, reviewing and rating performance for everyone in Defra and its agencies. Over the last few months a small team of HR professionals with backgrounds in policy, reward, learning and development have been working with a user researcher and an agile coach to do discovery work to understand what people need from this performance framework.
Discovering what people really need
Discovery is a short time-boxed period and its principal purpose is to learn.
People are at the heart of any organisation and the way an organisation encourages them to be motivated and productive is important. PMR exists to support this, so it's interesting to learn what people really need from it.
We've interviewed and observed a broad cross-section of people who work for Defra and its delivery bodies - including vets, call centre staff, lab technicians, policy officials, and line managers - to help us understand what problems need solving. Importantly, we spent time trying to understand people's emotional needs: performance development is a lot do with how people feel.
We've learned that to many people, the current arrangements feel more about management and reporting than about developing and improving performance. That's certainly not the intent but that's how people feel about it, and it encourages all sorts of unintended behaviours.
People genuinely want to learn how to improve their performance, but they need to feel supported and encouraged to do that. A rigid, yearly process doesn't always help because people learn and develop in different ways. People need to trust that it's safe to try new things - even if they fail at first. Feelings and humans are complex.
Our discovery has shown that users need a performance framework that is:
meaningful, with clear objectives
constructive, providing timely feedback
grounded in learning
simple and supported
fair and transparent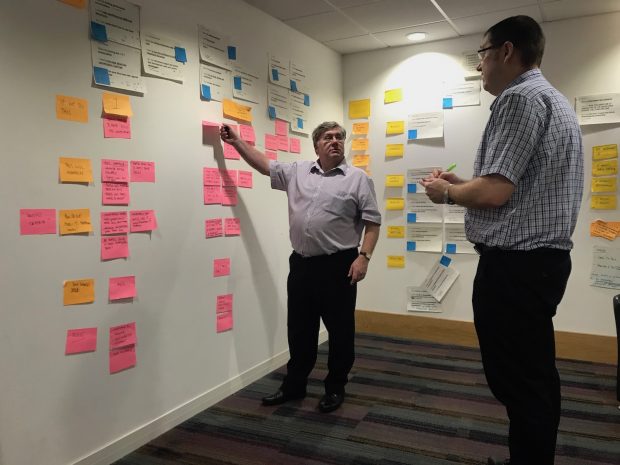 Agile ways of working will keep the team focussed on the needs of users and will allow us to experiment with different ways of meeting these. We have hunches on how to improve things, but at this stage they're just that: hunches. We'll test these by running a series of short experiments: observing, listening, measuring and learning. We will listen to what people say, observe what people do and respond by building on the things that work and dropping the things that don't.
We'll keep doing this until we have enough evidence to suggest we're meeting the needs of users. These trials will inform how change is rolled out.
We'll keep you posted on this blog. More soon.