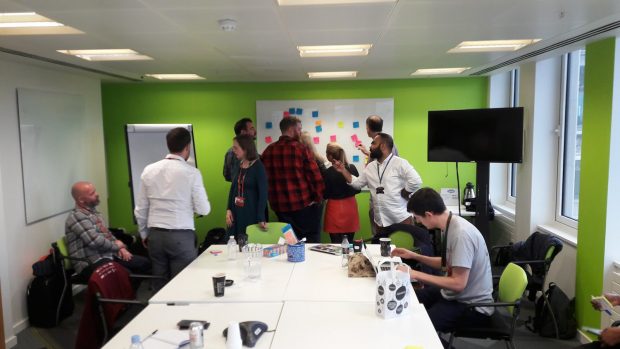 A few weeks ago, a group of people from Defra's delivery manager community of practice paid a visit to colleagues at the Ministry of Justice. We'd heard great things about how they ran their own communities, and how those communities were making things better. We wanted to find out more.
During the visit, we spent some time learning about the work the MoJ team have been doing, talking about agile ways of working, and took part in a lean coffee discussion.
(Lean coffee is a good way of applying some structure to a small group discussion. Everyone gets to suggest topics, then votes on the ones they'd prefer. Once there's an agenda, each topic gets 5 minutes - unless a majority vote for an extra 5 with a simple "thumbs up". It's a helpful way of prioritising what's discussed when there are a lot of people with lots of things to say.)
More in common
It wasn't surprising to find that we have lots in common. Everyone had things to say about governance, ways of working, funding, team co-location, and on what delivery management is all about. One of the things you quickly discover as you talk to more colleagues elsewhere in government is how similar their problems are to yours.
In particular, we noticed a few particular things about the MoJ set-up:
They make full use of every bit of wall space … our visit included walk-throughs of several agile walls, and it was noticeable that the MoJ team were putting every available bit of wall space to use. It made their office feel a lot more open and collaborative, and meant we visitors could absorb a lot of new information in a very short time
The whole workspace was better equipped for agile working, with flexible, moveable desks and seating that can be rearranged quickly for different tasks
Their teams all have strong identities, and are empowered and trusted to make most decisions themselves
They "show the thing" with weekly talks or show-and-tells, which in turns helps keep management informed and assured that they're still delivering
None of these are things we don't do within our teams at Defra … but all of them are things we could improve on, or help to improve. Some of that might mean input and support from senior people - which is where communities come in very useful as a collective voice.
Communities drive culture change
As a result of our visit, members of the Defra delivery managers community have decided to write up what we believe will make our community more successful. We've got a draft already that we're sharing with colleagues for feedback.
We're convinced that positive culture change is an offshoot of strong communities of practice. The stronger the communities, the more they can help the wider organisation as it transforms. Communities aren't just an output of transformation, they're a tool for making it happen.
Personally, I came away from the visit with a stronger sense of being part of government. I feel more supported. Our colleagues at MoJ share the same challenges and frustrations as us. It was incredibly helpful to see how people in an otherwise very separate organisation were facing up to those challenges, and trying to solve them. This is what being oneteamgovernment is all about, right?