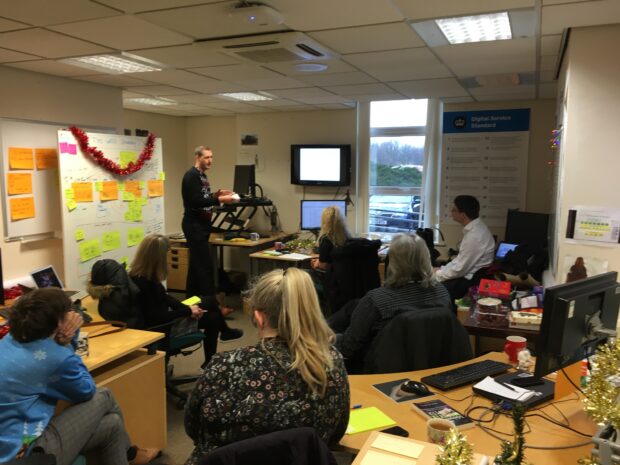 A cross-government collaborative team recently started a discovery looking at how waste movements are tracked across the UK. The team is keen to hear from regulators and businesses, to find out more about their needs. In this post I'll explain what the discovery is all about, and how to contact the team if you're interested in taking part in the research.
Understanding waste movements better
As our chief digital officers pointed out in a blog post a few weeks ago, waste is more complicated than most people think. Any business or organisation that produces waste has to follow rules for moving it from place to place for disposal or recycling. The rules vary according to the type of waste, and where it goes to.
Waste movements are tracked because it's important to make sure that different waste products are correctly dealt with. Hazardous waste needs to be disposed of safely, and not end up contaminating the environment and non-hazardous waste needs to be tracked to ensure that as much of it as possible gets recycled or re-used. Clearly understanding what happens to our waste is good for both the environment and the economy.
The challenge at the moment is that there are various processes, rules, applications and permissions for moving and tracking waste. There are a mix of paper based processes and systems across a number of different regulators with a lot of data duplication and complexity. This only provides a very broad understanding of waste movements. It works, but it's not very efficient for businesses or government and not very up-to-date.
A better way of moving waste and a clearer understanding of where it comes from, where it's going, and how it's dealt with will help government and industry make faster, and better decisions about our waste. Potential benefits include:
improving the environment – by strengthening compliance, reducing administrative tasks for regulators, and taking a smarter approach to tackling waste crime
cutting red tape for business – an improved approach will reduce waste reporting requirements and reduce administrative costs for business
better quality data – so we better understand what waste in is produced in the UK, how it is produced, how much there is, where it goes and what happens to it
seeing waste as a resource – knowing more about movement of waste across the UK could help encourage more recycling, re-use and recovery
Starting with user needs
A few weeks ago, a small team of people from governments and regulators covering England, Northern Ireland, Scotland and Wales started a discovery to find out more about the movement of waste and how this is tracked. "Discovery" is a phase of work, usually lasting a number of weeks or months, where a small team focuses its efforts on exploring a problem until they really understand it. At the end, they will have a list of user needs, and some ideas for meeting them. Discovery may or may not result in moving to the alpha phase where the team takes some of those ideas and explores them further.
In this discovery, we're hoping to end up with:
A clearer understanding of how waste is currently moved and tracked across the UK, and the associated problems
An understanding of users of the service (i.e. those that move and/or track the movement of waste) and their needs
Clarity on the need for any regulatory and/or policy changes
An initial overview of a potential future service, including any ways that we could use technology to make the service better
A plan for taking the work forward, if viable
How you can help
Our discovery has only just begun and is expected to continue through early 2018. Throughout, we will be carrying out user research with a large number of users from businesses and across government in order to clearly understand their needs.
As part of that research, we've just opened an online survey aimed at companies that produce or transport waste. We're asking them:
How you currently manage movements of waste
The problems or frustrations you experience, and
Your ideas for how things can be improved
If you're one of those companies, we'd be very grateful if you could give some time to fill out the survey. It only takes about 5 minutes.
We're also keen to hear from people who'd like to help out with other user research activity we'll be undertaking in the coming weeks and months. If you're interested, please email us at WasteTracking@environment-agency.gov.uk with your contact details.
In the meantime, we will continue to provide regular updates on our progress here on the Defra Digital blog.