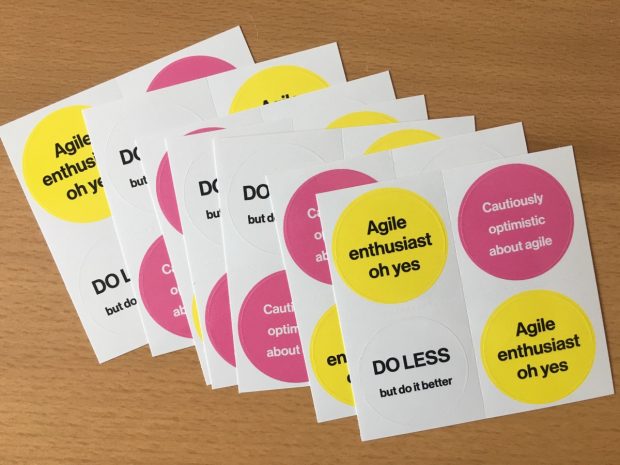 A few weeks ago, we were invited to speak at an internal event for managers in one part of Defra.
The subject of our talk was "What are digital skills, and how do we develop them?" We think that good digital transformation happens when you invest in people and skills, as well as technology.
This post is a summary of what we said, partly for the benefit of the people who were there, and partly because we thought it would be good to be open about this, because it affects colleagues in many other parts of Defra and beyond, across government.
Why digital skills matter
Let's start with GDS co-founder Tom Loosemore's definition of digital:
Applying the culture, practices, processes and technologies of the internet era to respond to people's raised expectations.
Our joint Chief Digital Officers, Harriet Green and Myra Hunt, explained how this simple statement defines the task ahead of them (and us) in a blog post back in November last year.
Defra is changing the way it works, in order to become a more flexible and adaptable organisation. To better meet people's raised expectations.
But it's important to remember that some of those people are our own staff, or people we will want to hire in future. Their expectations are raised too.
They expect to be able to use modern computers and web-based collaboration tools to get their work done.
They expect to be allowed to work more flexibly, in more locations and while travelling, and for the kit we give them to cope with that.
They expect to be allowed to put their existing digital skills to use, and to be able to develop and grow those skills while they work here.
Why do they expect all these things? Because that's the norm, these days. That's what they'd get from a job in the private sector. So if we want them to come and work for us - and stay working for us - we need to go to similar lengths to meet the same expectations.
Building digital skills
The Digital Working team in Defra has been working with teams and leaders to help make transformation easier. At the moment, we're focusing on three primary areas to help build digital skills:
1. Coaching
We have specialist agile coaches working with delivery teams in Bristol, Warrington, Crewe and Reading.
These agile coaches aren't just popping in for the occasional visit - they're embedded with the teams, sitting with them as much as possible, making themselves visible and available.
Each of them is very experienced in making agile ways of working work, particularly when the wider organisation is less agile than the delivery teams themselves. That boundary between "very agile"" and "less agile" is often where the trickiest problems arise. (It's where we find it useful to think about the agile team onion, a concept developed and explained by former Digital Working team member Emily Webber.)
The coaches have a mandate to get involved. Some teams need more help than others. Each coach has the freedom to find the teams and the problems that need help, and gently (positively) interfere where necessary. They help remove blockers, question traditional behaviours, suggest new ways of doing things, and teams reflect on what's been done.
The teams tell us that having the coaches around is very helpful for them.
2. Developing Communities of Practice
We think Communities play a vital role in delivery. The more brains you have focused on a problem, the sooner it gets solved. Communities bring brains together.
The nature of Defra's work means it has offices all over the country. No matter how hard we work to break down our organisational silos, we're still going to have geographical ones that are much harder to overcome.
Nevertheless, we think it's worth putting the effort in. Communities create opportunities for people working in the same role to get together (virtually and face-to-face) to share problems and solutions.
Different Defra communities are at different stages. Some are brand new and still finding their feet. Others are growing in membership and maturity, and starting to become a collective voice for people who, individually, would struggle to get their views heard.
3. Investing in learning and development
The GDS Academy is important for building digital skills across government, offering a range of courses across professions.
Recently, the Digital Working team has been setting up a "pick and mix" bag of training courses, mainly covering things that aren't covered by GDS Academy or elsewhere.
We've been helping teams with short courses in things like:
how to do a retrospective
how to use kanban
needs of individuals and delivery teams
Another recent addition to the list is "Agile for everyone", a short (half day) course aimed at anyone who wants to find out more about agile ways of working. We've found it particularly useful for middle management who have heard about agile, and seen teams that report to them implementing it, but who haven't had an opportunity to learn about it or use it for themselves. The course is as much about stimulating debate as it is about sharing knowledge.
Helping those managers recognise the value of agile working is enormously helpful not just for them, but for the teams that report to them. The better their bosses understand why they're working in a particular way, the more successful the agile team will be.
Simple things management can do to help
If you're in a management job, particularly if you have agile teams working for you already, there are 3 simple things you can do to help them:
1. Empower teams to experiment and learn
Establish clear guard rails for decisions the team can take themselves, and decisions that need to be escalated up. That said, make team-level decision-making the norm, rather than the exception.
Protect the team so that they can focus on delivery, and they're not distracted by noise around them.
Talk to managers above you, to ensure you are suitably empowered and have autonomy to make decisions at the right level. (If they don't fully understand agile ways of working, maybe they could come to the next "Agile for everyone" session.)
2. Participate as part of the team
You will feel - and be - more detached from the work that's being done if you limit your involvement to reading progress reports at the end of an email chain. Make sure you visit your teams, attend their show-and-tells and some of their stand-ups. Encourage them to write blog posts about progress, and write some of your own too.
3. Do less, but do it better
Sometimes the best decision you can make is not to do something. Teams that can focus on one thing can deliver faster and better. Effective prioritisation is essential, so make sure you allow time for it to happen, and you involve people so that they know why and how it's happening. Teams with the freedom to focus are generally more productive.
Trusted teams make better decisions
Too often, there's a chain of command - or a chain of approval - that was originally put in place to approve the work being done. This piece of work has been done well, so it can continue. That piece of work hasn't been done well, so it should stop.
Digital delivery puts trust in the teams from the outset, and assumes that they will decide what to do based on the evidence they gather during their research. They are by far the best people equipped to make decisions on what's the right thing to work on next, and what isn't.
If they think a piece of work hasn't produced good results, they will want to understand why. They will be the first people to raise a hand and say: "This isn't the right thing we should be working on." And then, if they can, explain what the right thing should be.
The more you can trust your team, and free them from burdens of constantly justifying their own existence, the better they will deliver in the long run.
The more you invest in people and skills, the better progress your organisation will make with digital transformation.