Agile digital teams use walls to openly showcase their progress and demonstrate the work that they are doing, and many people have written blog posts about this in the past. However, when a colleague in another department asked me to send him pictures of our team wall so that he could "convince people… that communication wall spaces are a good thing, used by more mature digital departments", I decided that how we use our wall and how it has become a living part of our team, is something to be proud of.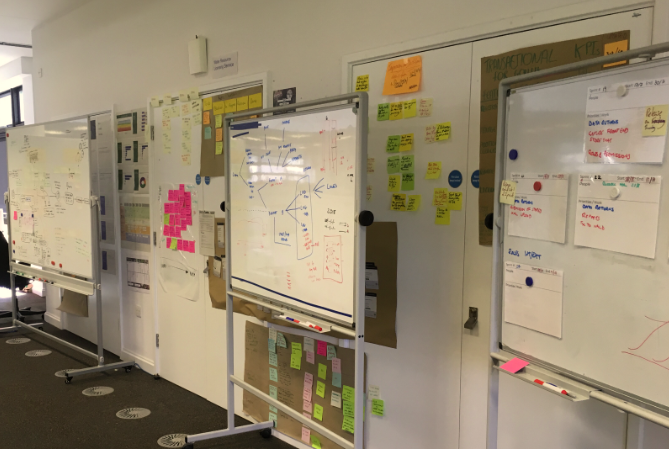 When it comes to using walls to collaborate, the first step is to find a good space. I've seen other departments where wall space is at a premium and agile spaces are squashed between desks or outside the toilets. Luckily we are sat directly next to a large set of cupboards and a wide corridor which we have filled with 4  large whiteboards. We make the most of this space in any way we can and as a result, we have developed a wall that is an integral part of our team and something to show off to others.
The wall is a living thing
One of the key features of our wall it that it is constantly changing depending on what the team are working on at the time. In the 4 months I have been in this team, nearly everything on the wall has changed in one way or another. There's nothing worse than setting up a new feature on the wall and coming back a few weeks later and seeing that no one has used it. To avoid this, we are constantly using and updating the wall, removing things that are no longer needed or are not working for the team, and adding new things when we need them. We also photograph anything we remove that we think might be useful in the future.
These are 3 of my favourite current features on the wall:
Knowledge kanban
A kanban board is a way to visualize progress in work, where different columns represent stages in a process. Our knowledge kanban helps us to plan our user research and identify other questions that we have about the project.
The questions are split into 3 columns: 'Don't know', 'Think we know' and 'We know (enough)'.
The board was set up by our User Researcher, Clare, who felt that the team were great at getting involved in user research, but were sometimes unclear about what they were trying to achieve. She also felt that the team could be better at setting research goals.
Clare read a blog about knowledge kanbans and thought it seemed like an interesting idea. She started with a Trello board but this had low engagement. Instead she made a physical board and organised a regular review in every sprint where we could raise, discuss and answer questions as a team.
According to Clare, "We now have the time and space to work through the all questions that we have. Being together means we can look at them from a range of perspectives, identify how we can find answers, and prioritise the ones that need answering first. This should hopefully increase confidence and help us avoid any unexpected surprises that could derail our work."
User journey map
As a team in public beta, we are currently designing and building additional features into our service. The exact journey that different types of users will experience and the business processes for these features is a work in progress. Our Interaction Designer, Steve, was tasked with producing a user journey and business process map for the current feature we are working on and he started by drawing it on a whiteboard. Steve said that doing this helped him visualise the spatial arrangements of how the process works for different types of users and (literally) draw links between different processes including features which are not yet included as part of our service.
The drawing has since become the focus of numerous conversations, where other members of the team have been able to ask questions about the process, review and improve the map. By having a physical board to base these conversations on, team members can point to and discuss tangible parts of the process. We have gone from having a number of abstract ideas to a physical map that we have been able to shape into a well thought out plan, which Steve has used to make a more formal process map in Google sheets.
Using the whiteboard to build our user journey map was both a fun and engaging way to encourage the whole team to collaborate and we can now use it to show stakeholders what we are building.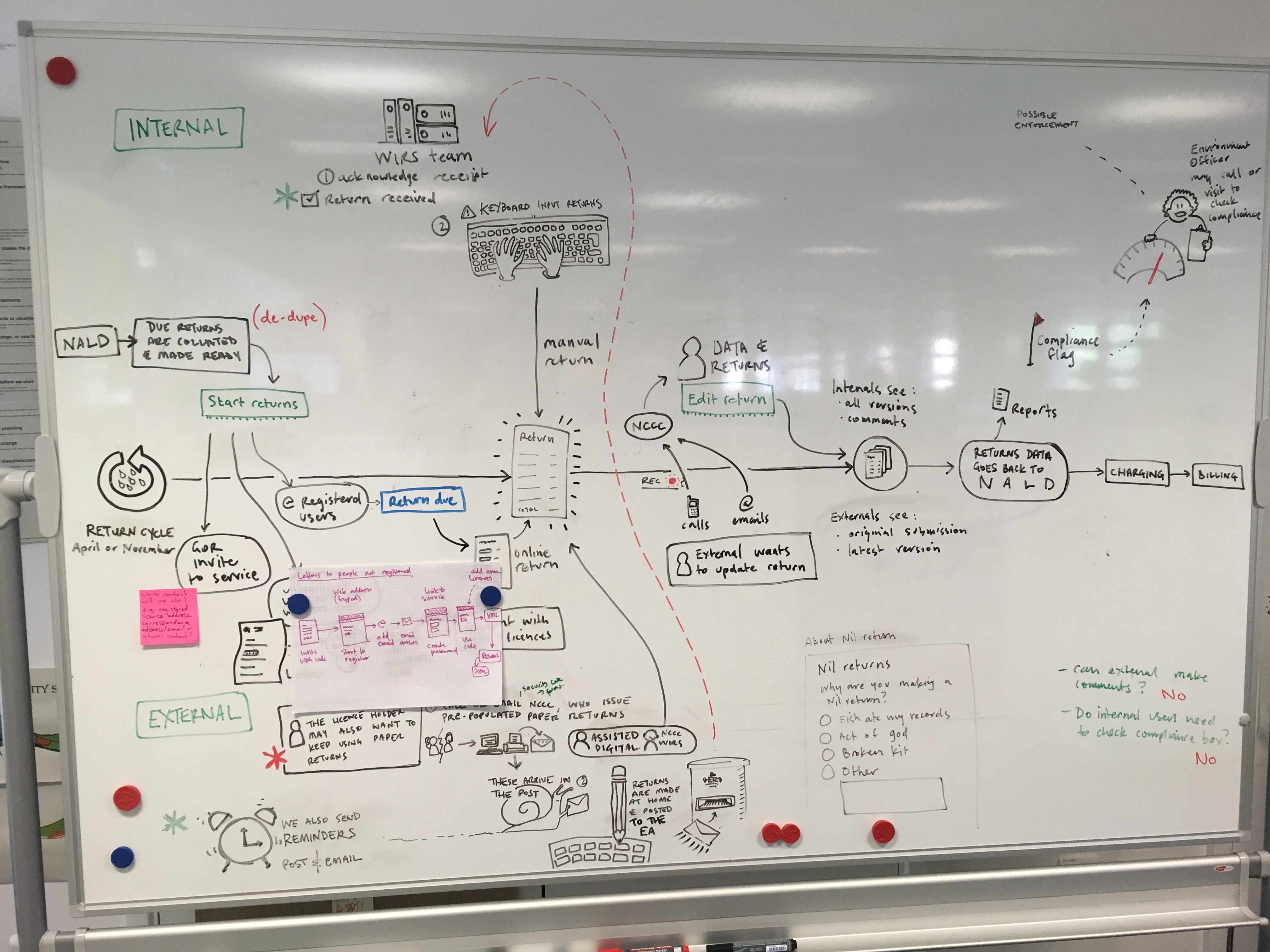 Retro kanban
Another kanban board on our wall is our retro kanban. Actions from our retrospectives are put on the kanban board, and we review this at the end of every sprint. This is a great way to keep track of progress and make sure that our actions are actually being done.
This is one of the few things on the wall that has been up since before I started. The team have found it really useful to help implement some of the changes and new ideas generated from retrospectives. As the Delivery Manager I also find it useful to look back on during the sprint and remind myself of ways in which I can help the team improve. I have also started putting up other outcomes from our retros on the wall to help remind people where the actions came from.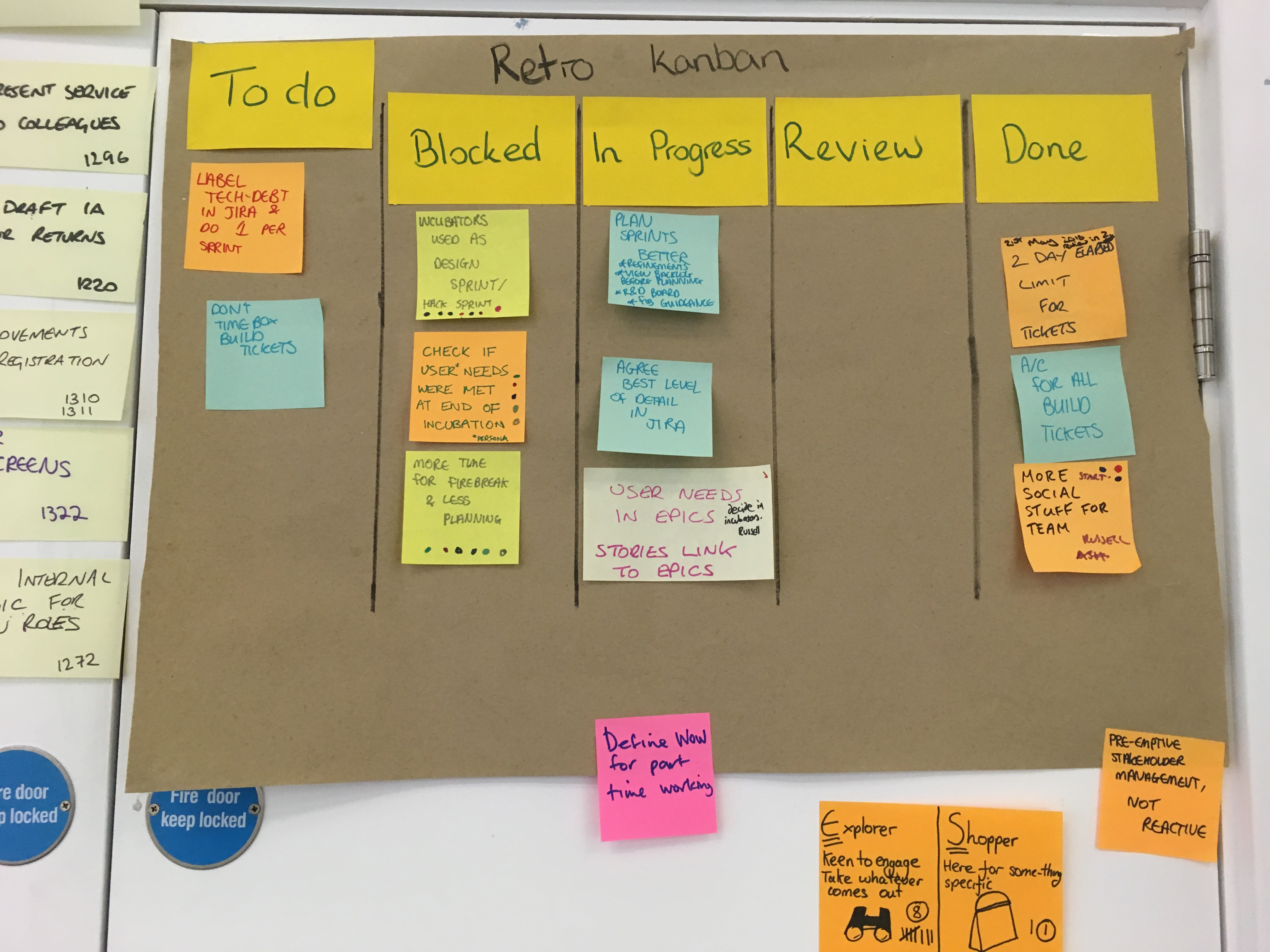 The wall is a part of our team
All three of my current highlights were initiated by a different member of the team. That speaks a lot about how the team uses the wall. No one person owns it or maintains it, we all do. In any given day our product owner might show stakeholders and visitors the wall, the developers could draw out their latest challenge on a whiteboard, or our design team might hold a chat in front of the wall. We also hold our stand up in front of the wall every day.
Without our wall the team would be very different; it's the first thing anyone visiting the team sees and it demonstrates so much of what the team is working on. Not only that, but legacy items remain on the wall as a reminder of the journey the team has been on and plans and pipelines show where the team are going. Our team are currently facing a potential move to another office and we are looking to retain a large wall space as it is hugely beneficial for us.
This is how we use our wall within our team. I'd love to get inspiration from other teams, so, how do you use your wall?