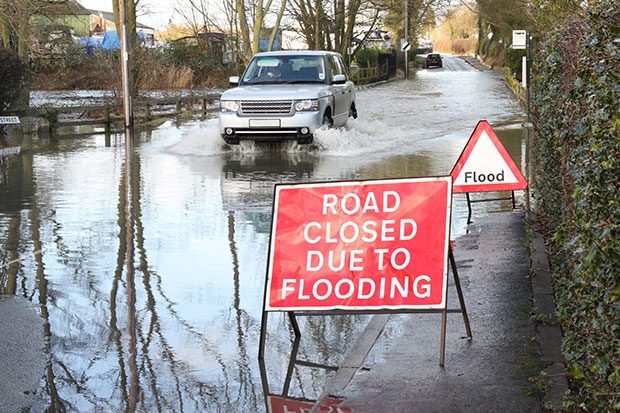 The Environment Agency and Natural Resources Wales are responsible for providing flood warning information to people at risk of flooding in England and Wales. We do this by sending information to users by text, email and automated phone calls.
The strategy is (postal) delivery
In December 2018, we successfully switched the texting part of the service to GOV.UK Notify. Since then we've been exploring how we can use GOV.UK Notify to make further improvements to the service - including our ability to send out letters.
There are currently over 500,000 user accounts registered on the flood warning service. We send a letter to users when:
they first register
they update their details
they cancel their account
we make changes to the service (such as changing the local areas we provide a flood warning service for, so users can take appropriate steps)
A simpler, quicker and cheaper service
GOV.UK Notify is a platform for government, built and maintained by a team at the Government Digital Service. GOV.UK Notify makes the process of sending letters much simpler, quicker and cheaper for us. Features that our team finds particularly helpful include:
letters being sent daily rather than weekly
content can now be changed in real-time based on feedback or policy changes, and at no extra cost
we can test the changes in the GOV.UK Notify online dashboard instantly
the cost of sending letters is significantly less – we save around 75% of our previous cost per letter, and no longer pay an ongoing service charge to a third party
Calm before, during and after the storm
A good example of the benefits of GOV.UK Notify can be seen when we look at how the weather can influence our service usage, as the weather has a big impact on the number of users registering, updating and cancelling accounts.
Volumes can be hugely variable and difficult to predict, particularly during wet weather. In the past, we had to liaise closely with our third party letter provider to monitor the stock levels for our headed letters, envelopes and enclosures - we didn't want to cause delays to the letter sending process by running out of stock.
Using GOV.UK Notify, we no longer need to do this during busy flood events. Instead we can focus on doing what we do best – making sure the service is efficiently and quickly warning those at risk of flooding.
Love letters, Love emails
Our first choice is always to send emails to users rather than letters in the post; it's a quicker, cheaper and more environmentally friendly way to inform users of their flood warning account details. But only about one third of our users have provided us with an email address.
We're looking at ways to make it easy for users to add an email address to their account. We're going to add information on our online service pages to prompt users to add one, and also add similar content to letters we send out.
That's one of the great things about GOV.UK Notify - it's easy for us to change things quickly and easily.
Making it happen
We would highly recommend government service teams use GOV.UK Notify. It didn't take us long to move the letter part of the service to GOV.UK Notify. To make this happen we:
carried out a review and redesign of all our letter templates, to make the language clearer and simpler, and align it with our online services
helped our colleagues at Natural Resources Wales to create a GOV.UK Notify account of their own, so that they can continue to provide specific letterheads and language options to users in Wales
reused the code and experience that we developed when we switched to GOV.UK Notify for text messages, saving us time and effort
tested our new processes end to end with GOV.UK Notify
You can sign up to our free flood warning service on GOV.UK, or by calling Floodline on 0345 988 1188.