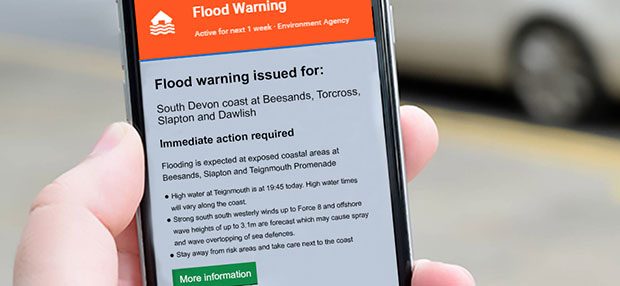 One of our main objectives in the Environment Agency's Flood Information Service is to continually improve how we alert people to flood risk, even when they are on the move.
Excitingly over the past year we have been working with the technology giant Google and their Google Public Alerts system, to create an enhanced flood information platform. We can now proudly say that we are the first UK authority to push public flood warnings through Google's online notification platform.
What is Google Public Alerts?
Many people today use mobile devices and online maps to gather information. With these trends in mind, Google built a suite of services designed to push out emergency messages and critical information about hazards or threats.
How will this enhance the existing service?
We already send flood information to users by text, email and automated phone calls. Google Public Alerts is a powerful addition to these.
It will enable us to:
increase the reach of our service – allowing us to cost-effectively provide flood warnings to more people and increase traffic to GOV.UK services
ensure that vital warnings have greater visibility because we are using Google's location-based search platform, to make sure that flood information is more closely steered towards those people at highest risk
How do the new Google services work?
The services work by matching a user's location (usually indicated by a mobile device) to a potential threat.
If a user is:
located outside a warning area and searches for a location which is at risk (for example a city name) plus a flood related term, Google Search will allow any relevant warnings to appear as a top result on their screen
in or passing through a flood warning area, any flood related search term (without location) Google search will generate the critical information
A user can then select and is taken to a page with further details, including:
a map of the area
actions to take
further links to GOV.UK and Floodline

Meeting the standard
If any other authorities want to use Google's platform they need to be compliant in the way that they issue their emergency messaging - by using an international standard known as the 'Common Alerting Protocol' (CAP).
To be effective, CAP alerts need to contain a location (a defined area or specific point), a relevant message, and a defined duration for the period the warning is in force. In our Environment Agency team we already had this capability within our Flood Warning System (FWS), but we developed an integration hub to provide alerts using the CAP standard.
Another condition of the Google system is that all alert data has to be available as Open Data – a characteristic the Environment Agency's information already had as part of GOV.UK's Open Government License (OGL).
Ongoing partnership
Now that our flood warnings and severe flood warnings are live on the Google platform's global crisis map we will continue to work with Google and explore more ways of ensuring that flood warnings reach the people who need them. In particular for extreme flood incidents, enabling those travelling or planning to travel, to be made aware of significant flooding hazards as quickly as possible through Google maps and direct notifications to their device.
To find out more about our work, email us: floodresearch@environment-agency.gov.uk.

Or follow our progress on our twitter account and Defra Digital blogs.