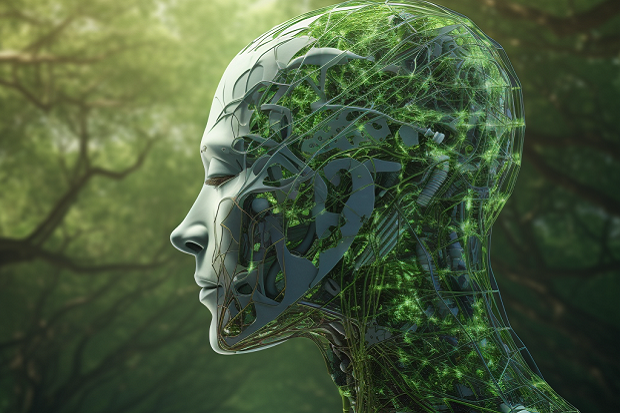 Defra technology innovation consultant Jan Murdoch shares his assessment of the key findings of our 2023 Emerging Technologies Radar, which highlights the potential influence of emerging technologies on the challenges and opportunities faced by Defra group, particularly in our pivotal role in promoting environmental sustainability within the UK.
Since the last Emerging Technologies Radar in 2022, artificial intelligence (AI) has rapidly grown as one of THE most talked about technologies across the globe. It offers the potential to transform the way in which we work across all industries and sectors.
Our latest radar provides a key focus on AI and highlights the other top 50 or so technologies that have the greatest potential to support the challenges and opportunities faced by the Defra group.
Last year we looked at holographic, virtual reality (VR) and augmented reality (AR) products. Following our explorations, we found that, whilst we could see the potential in VR technologies, the products were still in their infancy with challenges such as headset sizes. We predict AR products will lead the way in immersive experiences in the near future and are experimenting in partnership with the University of Bristol to understand new opportunities.
Our Microsoft HoloLens2 AR exploration has already been hugely successful. Working alongside our colleagues at Thames Barrier, we investigated the product's suitability for training and remote assistance, and, as a result, this is now in the process of being moved into formal adoption.
The rise of AI

The role of artificial intelligence and machine learning technologies in the UK government and industry, and its exciting economic potential, has never been more keenly felt, as highlighted with the government's recent white paper on the use of AI to drive innovation, and Sir Patrick Vallance's review and recommendations for Pro-innovation Regulation of Technologies.
The Government's own communications plan for 2023/24 states that amongst the Prime Minister's priorities is a "more innovative economy – innovation will be at the heart of everything we do".

What does all this mean for us though?
Among AI's most powerful benefits to Defra is its ability to process large amounts of data quickly and accurately from a variety of sources. For example, machine learning, a type of AI, can analyse data and learn from it, improving its accuracy and effectiveness over time.
This makes it highly effective for tasks like predictive analytics, a data analysis technique that helps us make predictions about future events or trends based on historical and current data and will enhance Defra's ability to put in place proactive measures to protect the environment.
In collaboration with Cardiff University, we have recently explored this technique's potential to aid in the fight against the avian flu epidemic.
AI's potential is incredibly diverse and provides Defra with more power in key challenges such as promoting a healthy working environment through its ability to detect patterns in behaviour that could indicate mental health issues, to the fight against cyber threats, and is used by the Technology Innovation team to track emerging technology trends and Defra group business challenges.
Why this radar is valuable to Defra
The Defra DDTS Technology Innovation team's annual radar report, which is produced with the help of a large network of contributors, including its supplier network, cross government networks and Defra  colleagues helps guide proactive exploration and informed investments in the new digital technologies that have the potential to have the greatest impact in transforming Defra group.
The 2023 radar provides details on the themes that have been identified as being key to Defra , and how emerging technology will assist us in reaching our objectives.
Further highlights to look out for
How technology can support the drive to become greener, supporting a more efficient, faster, and sustainable collection of environmental data and gaining better insight of the data.
Changes to organisational workforces and how emerging technology, such as immersive tools, could be used to enhance new and existing colleagues' learning and development.
The new opportunities that the metaverse and immersive technologies bring to the workplace and the ethical issues facing its growing use.