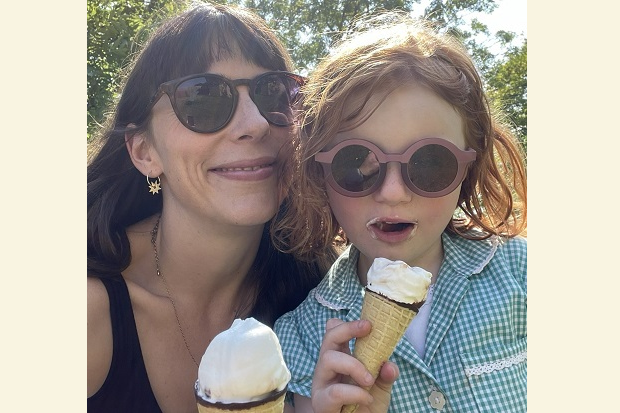 On World Adoption Day, Emma-Claire Shaw reflects on her own experiences of adopting, five years ago, and looks forward to embarking on the adoption journey for a second time, very soon.
Today is World Adoption Day, a day when people all over the world reflect on the importance of adoption, and share their own personal stories, as I want to do here.
Coincidentally, for me, it also happens to be the day that I will be going to the Matching Panel for my second adopted daughter, where a team of independent people will hopefully approve our match, ready for us to start transitioning her into our care from later this month.
I get lots of questions (nice ones!) whenever I tell people I've adopted so it felt like a really good time (just before I go off for adoption leave) to talk a little more about our journey, answer a few FAQs and share why I'd wholeheartedly recommend adoption to other people too.
Reasons for adoption can often be different
People decide to adopt for lots of different reasons but for us, like many people, it's because we wanted to be parents, but it proved difficult for us to have our own biological children. We were given very low odds for various reasons and decided medical intervention was not for us, and we very much saw adoption as a positive alternative.
What could be better than becoming parents to a child who really needs the safe, stable, family home we were able to offer? We were also very lucky to have some friends, who had adopted their son, and who had had a really positive experience and were able to talk us through how it works and show us how well it could turn out.
For us, the adoption process was hugely valuable
One of the favourite questions people ask is about the process to adopt – everyone seems to have a story about how long or difficult or invasive it is (even if they've never done it themselves!).
Quite honestly, we found the process to be a bit like therapy, breaking down our own life experiences and thinking about how that might influence how we would like to parent our children. It was genuinely a useful exercise and I think most parents could benefit from those discussions.
No part of the process felt unnecessary or particularly invasive; through the process we realised even our adverse experiences could really help us understand and parent a child who may have a difficult life story to get their head round later on. In terms of timelines, I'm not entirely sure what the averages are. With our first time (five years ago) it took around 18 months from application to approval, second time around it took only a few months!
Choice is in your control
Once approved you move into matching and then there's no way to estimate how long it might take for the right one to come along – and yes, of course you get to choose which child (or children) you adopt (another FAQ!).
The first time this process was driven by our social worker sending us profiles of children who might be a match but this time it's all been driven by us via an online portal (which has been very strange, and heart-breaking at times).
We were told that, at the moment, there are a lot of children with placement orders waiting to be adopted and it certainly seems that way as we found our daughter very quickly this time around (within just two months, the first time this part of the process took six months).
In Defra, adoption is treated the same as biological parenting
I came to work at Defra as I wanted to know that I was contributing to something positive and worthwhile every day, but it has the added benefit of being a great employer when it comes to having children too.
I often get asked about the parental leave allowances for adopting. The great news is that when you adopt, you get the exact same allowances as when you become a parent biologically, up to 12 months in total (and at Defra, six of those are on full pay – hooray!). You can also utilise shared parental leave, which allows both parents to spend time off with the child in the first year.
A journey with lots of empathy and even more joy
Being a parent of an adopted child involves a lot of empathy, for our daughter and her journey, but also the family she left behind (who we write a newsletter for every year). For the most part we are like any other family, but with the added angle of her having a whole other life before she came to us which we talk about with her often (yes, she knows she's adopted!).
Our first daughter has brought so much joy to our lives, and I will always be grateful for the amazing journey we have been on together and the one yet to come including #2. There are thousands of children waiting to be adopted in the UK of all ages and backgrounds and most people will be eligible to adopt – even if you're renting your home or if you're single (other common questions!).
To find out more about adoption check out Adoption UK or First4Adoption, . Alternatively, why not attend an information session with your local adoption agency (you can find one on either of the above sites).
There are also some brilliant books about adoption listed on this blog (I particularly enjoyed 'And Then There Were Four' by Emma Sutton). I am also very happy to discuss our experiences with anyone interested in adopting, you can find me on LinkedIn.
Emma-Claire Shaw is a Lead Product Manager for Power Platform in Defra.
Defra staff get time off to care for their child when they are born or adopted: most mothers are entitled to 39 weeks of paid leave, and a further 13 weeks of unpaid leave, most partners are entitled to 15 days of paid paternity leave. Parents can usually divide their leave with each other under shared parental leave arrangements. Parents can also take unpaid leave until the child is 18 years old.
World Adoption Day is a day to lift up all voices in the adoption community, to share personal stories, reflect on individual adoption journeys and to connect with those touched by adoption.