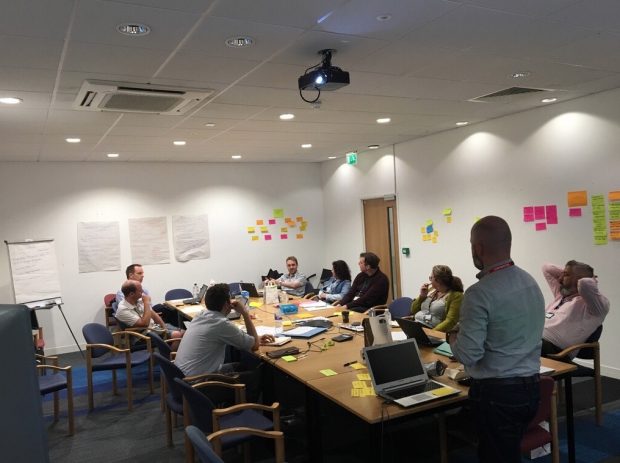 For most of the last 4 years, I've been trying to wrap my head around how Defra builds services that meet user needs and support the outcomes Defra exists to bring about - benefits for the environment, the economy, for health, wellbeing and society.
Like many colleagues, I believe we've made good progress in transformation; but also like many colleagues, I believe there's a lot more we could do to change faster and better.
In this post, I want to explain what I think needs to happen, why it should happen, and how it should be done.
What needs to change
In a blog post from last year, government's Head of Design Louise Downe talked about "whole services":
We design whole services, from end-to-end: this means from when the user starts trying to achieve a goal to when they finish - including both content and transaction agnostic to the department providing it. From front to back: this means the user-facing service, internal processes, supporting policy or legislation and organisational, financial and governance structures of the service. And in every channel: digital, phone, post, face to face and physical elements.
The point Louise was making was that effective transformation comes about only when you think deeper than just websites and digital services. Addressing "internal processes" and "supporting policy or legislation" means involving a much wider set of people from all parts of an organisation.
That means re-shaping the entire organisation, not just delivery teams, to focus on delivering for users.
In my view, we're never going to be able to deliver whole services until we start working as a whole team.
Why we need to change
My experience over the last 4 years has shown me that:
we suffer a glut of silos; institutional, functional and team-based. Poor communication between the people in each silo makes it very hard, if not impossible, for us to have a shared common understanding of the user needs we need to meet, and the work being done to meet them
teams are trapped in cages of bureaucracy that slow them down to the point where agile delivery becomes almost meaningless, because being agile means moving fast and you can't move fast when you're snowed under by reporting, budgeting and procurement processes
Both of those are reason enough to change, but if you want a more concrete example, let me tell you a little story.
Some time ago, a colleague of mine was invited to a meeting between the policy people and the operational people for a particular service. The idea was to make sure that everyone had that shared common understanding of how the service worked, pending some substantial work to change it.
Long story short: there was no shared understanding. The policy people had one view of how the service worked, defined by what was written down in their official policy documents. The operational team had a completely different view. Over years, they had been dealing with this policy in the real world. They had implemented their own work-arounds and shortcuts to deal with problems that policy on its own had not anticipated, and couldn't quickly be changed to cope with.
My colleague sat open-mouthed in the middle, incredulous that two different teams working on the same government service had such different experiences of how it worked.
How the change should happen
The key words in that last paragraph are "two different teams".
So far, the focus of transformation (in various government departments, not just Defra) has been on IT change. Sometimes it includes a bit of org-chart style change where responsibility for one box of people is moved from A to B. Each of those is fine in itself, but neither of them provides the deep-level "whole service" thinking that Louise was talking about.
I think the way to deal with that is to create agility at the service level.
What would that look like?
We'd have teams empowered to decide for themselves what needs to be done, and how it should be done, based on user research and iterative agile working. Not based on endless consultation with endless different governance boards, budget holders and business cases. We'd free them from those bureaucratic cages.
Here's how I think we should start:
Break down functional silos. At the moment, teams managing things like policy, HR and finance are separated from teams doing delivery.
Make sure every service has an accountable service owner - someone senior enough to take responsibility for everything that might affect the way we deliver the service to users. Not just the things we traditionally think of as "delivery" tasks, but everything that would automatically be included if we followed step 1 and broke down the functional silos: policy, finance, everything. They own the service, they own the user needs it meets, they own the benefits it brings and outcomes it seeks to achieve.
Ask "Why?" more often. I don't think I need to explain this one.
If everyONE changes, everyTHING changes
To sum up: I think we need agility at service level. Agile ways of working are too useful to confine to delivery teams. We should be empowering and allowing everyone in Defra to work in agile ways and enable whole teams to work on whole services. It means putting accountable service owners in place, who have authority over everything necessary to deliver a service - not just the software and hardware, but the people, the money, the policy and everything else.
I didn't intend to do this when I sat down to write this post, but I suppose what I'm doing here is calling for radical, sweeping change. But if you look up "transformation" in the dictionary, it says "a marked change in form, nature or appearance". Radical and sweeping is part of the deal.
It's been said that good change comes from the bottom up, and I completely agree with that. I've seen it happening and it makes me smile every time. But: you can only get so far with bottom-up change. You also need some top-down change, to remove the blockers that get in the way.
When those two sorts of change meet in the middle? That's when the magic happens.