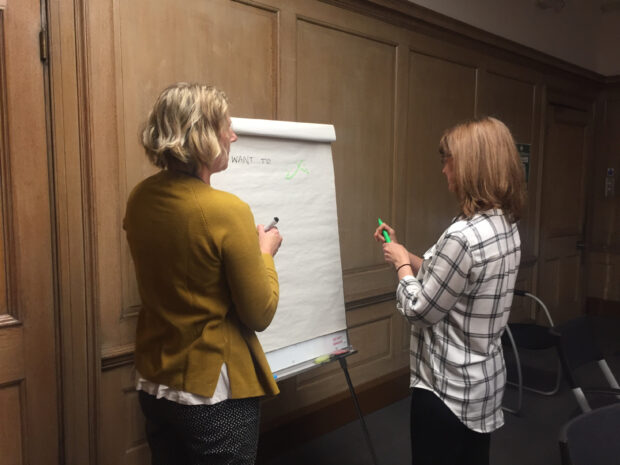 The more steps Defra takes towards becoming a user-centric, service design-focused organisation, the more we learn about changing the way we work and collaborate.
That's made more difficult in an organisation like Defra, which despite our best efforts over many years is still a network of many smaller, siloed organisations doing their best to work together.
As practitioners of agile and digital ways of working, we've both encountered situations where "digital" is seen as just another separate team, in the same way that "policy" and "operations" and "delivery" are seen as separate teams.
In a post from last year, Clare wrote about our need for "agility at the service level". She said:
We should be empowering and allowing everyone in Defra to work in agile ways and enable whole teams to work on whole services.
In those whole teams, everyone gets to work in agile ways. It's not something confined to a narrow "digital" silo.
Bringing policy and delivery closer together
About 3 years ago, Defra introduced something it called the "Policy Delivery Challenge"  (known as PDC for short). We both worked on it.
The idea was to address siloed working practices, especially the traditional separation between policy and delivery. The PDC team was given a mandate to break the mould. The goal was to "bring policy and delivery closer together".
The first piece of work run under PDC rules related to international trade - in particular, making sure that companies can continue to conduct trade abroad after the UK has left the European Union.
The PDC was a testbed. It was testing the hypothesis that Defra can bring policy and delivery closer together, and that doing so will produce positive results.
Did it? Yes and no.
While the team working on international trade started working in agile ways, the governance and funding structures surrounding them were still done in traditional waterfall-style. While still preparing for a discovery, the team were asked to provide comprehensive advance plans for what was yet to come - which, as an agile team trying to understand user needs before building something to meet them, they were unable to do.
Ultimately, it became clear that the PDC was seen as a separate thing - a silo of "digital".
The PDC did enjoy some success mind you, including:
setting up new multidisciplinary teams
appointing a service owner
shaping policy outcomes and operational processes through user research
But it didn't bring about real, lasting, deep-rooted organisational change. It failed to apply digital thinking elsewhere, beyond its own organisational borders.
Learning from past mistakes
The PDC taught us that:
Defra already has some highly skilled digital experts
People who are not experts are usually keen to learn new ways of working, and willing to adapt to them
"Digital" shouldn't be seen as yet another silo on the org chart, but it often is anyway
Overcoming that last problem feels like the biggest problem we face right now.
We believe the best result of the PDC work would be for digital thinking to be more widely dispersed across the organisation. Our leaders have an important role to play in making that happen.
The results could include:
a wider and better understanding of agile ways of working (something we've already explored for teams in HR)
a renewed focus on teams rather than projects
more decision-making by service designers, product owners and business architects, within multidisciplinary teams focused on user-centered design
more trust placed in specialists
policy and delivery people working closer together, more often (which was the goal of the PDC work in the first place)
Sound like a good plan? It does to us.