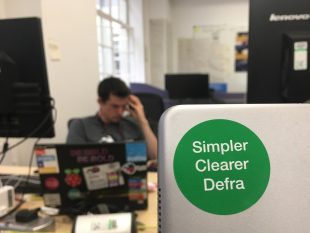 Enabling Digital Transformation (EDT) is a small (but growing) team within Defra. We're part of the larger Digital, Data and Technology Services (DDTS) team. Sorry for all the acronyms.
Our job is help Defra deliver good digital services, mainly by supporting the teams that do the delivering. In this post, I'm going to explain how we think, what we do, and how we work.
A simple set of principles
We follow the government Design Principles, but we've mashed them up with a few other things to create a set that we find particularly relevant to our work:
focus on user needs
deliver iteratively, showing the thing as you go
the unit of delivery is the team
keep improving how your team works, and support the people in it
fail fast, learn quickly
plan, but be willing to change the plan continuously and rapidly
lead by example
We believe that digital is something you are, not something you do, or something you buy or procure. It's more about people than it is about computers.
We're here to help teams deliver
Our focus is on providing expert help and advice. We're not here to do digital service delivery, we're here to make digital service delivery easier for the people across Defra who are already doing it, or who plan to be doing it soon.
We're splitting our work into five broad themes:
Digital leadership, where we help with steering, guidance, strategy, engagement and comms. We can help digital teams understand where their work fits into the wider scope of Defra's remit, and talk about their work to senior leadership and the outside world.
Understanding the service lifecycle, guiding teams who are new to it through the discovery-alpha-beta-live approach of service delivery. Helping them to prepare for each phase, and adjust to it as it happens. This work includes demystifying digital jargon and defining how services work with Defra's IT operational support teams.
Providing help from capability partners, where we bring in experienced digital specialists to provide delivery teams with practical, hands-on help. Those specialists are empowered to intervene, unblock, and build bridges with senior management.
Shaping the future workforce, focusing on people and skills. This theme is about supporting the development of our people with specialist digital training, and helping to define Defra's future digital capability strategy.
Pre-delivery pipeline, re-imagining how policy outcomes can be delivered, by: supporting the work that happens before services are developed, bringing policy and delivery together to jointly create end-to-end service design, and making it easier for users to do what they need to do.
Being digital and working in an agile way
The EDT team aims to lead digital change in Defra by example. So we're practicing what we preach.
We're building dedicated teams with responsibility for product vision, roadmap and delivery. Each team will be empowered to decide how to progress, and trusted to do the right thing.
Teams are responsible for managing how they fit into the wider Defra organisational structure that surrounds them. Small core teams are responsible for delivery, but they have networks of collaborators and supporters who help in different ways. None of them exist in a bubble, and we don't want them to. (Find out more by reading the agile team onion, by Emily Webber.)
Goals and objectives are fed into delivery teams based on priority and team capacity. In other words, we adjust the workload to match the availability of people and skills to get it done. Not the other way round.
We use online tools like Trello, Slack and appear.in. We do daily stand-ups (joining remotely if necessary) and run regular retrospectives.
And we strive to show the thing, communicating our work to colleagues and to the outside world via show-and-tell sessions, week notes and blog posts, and putting updates on the walls that surround us. If I'm honest, those walls are a bit empty at the moment, but we're working on that.
We're just starting out
Digital thinking is an essential part of Defra's future. We want to help everyone in the organisation make the most of the potential it offers. We've started bringing in experienced digital experts to help Defra change and adapt. Growing our own team, and helping other Defra teams to hire people with the right digital skills, are both high on our priority list.
This team is new, and still has a lot to learn. We're learning from everyone we speak to, and that's a good thing.